Sign Up With Option Strategies Insider
Select which Option Strategies Insider membership best fits your needs.
Sign up for annual billing and get two month free.
We charge $247 a month and for most people that can be expensive. But when you consider the sophisticated training and research we provide; this price is extremely cheap.
We have a habit of selecting winning trades that turn into real income month after month. Our training is second to none and our returns speak for themselves. Once you see how Option Strategies Insider works you'll never want to trade another way again.
To join, just select the package that suits you best.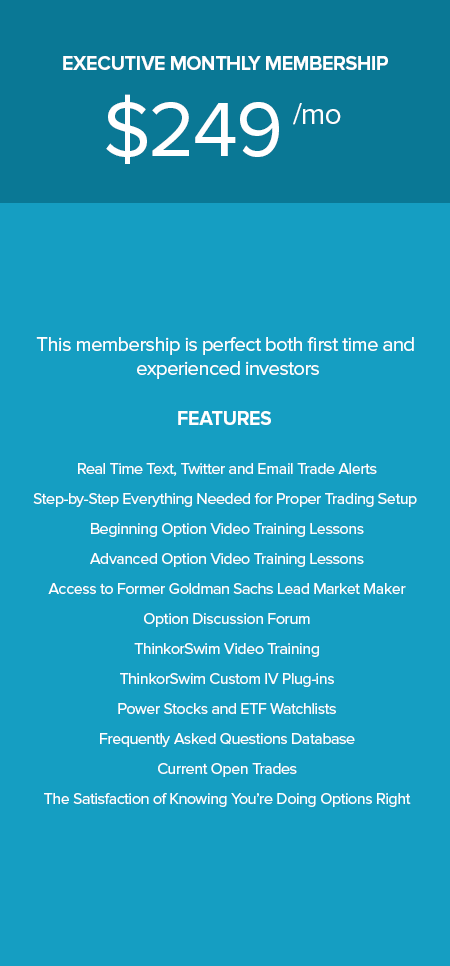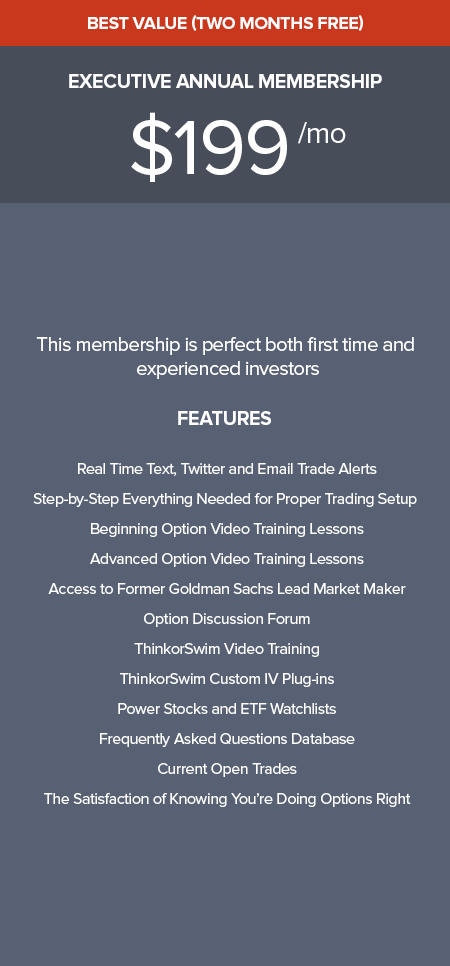 See What Other People Say About Option Strategies Insider
All testimonials are from real members who have learned options through our system
Thank you for guidance and help with options. I am a new member, only in my second month of membership, but I have got a lot out of the coaching. The videos are clear and communicate the fundamental of options in a clear and concise way. Appreciate the help!

Matt D.
I closed your recommendations of SPX yesterday and AZO today for nice profits and could not be happier with the research and the recommendations you guys have provided. Your option trading skills are second to none, having this site on my side make option trading a lot more fun.

Jason M.
I found Chris to be very honest and upfront with his trading method. He really does a great job of teaching in a way that makes a lot of sense. I can tell he really cares about this students and is consistently finding ways to help them become better traders for the long run.

William R.
The Advantages of Options According To Investopedia.com
"Options have been around for more than 30 years, but options are just now starting to get the attention they deserve.
There are four key advantages (in no particular order) that options may give an investor: they may provide increased cost efficiency; they may be less risky than equities; they have the potential to deliver higher percentage returns; and they offer a number of strategic alternatives. With advantages like these, you can see how those who have been using options for a while would be at a loss to explain options' lack of popularity in the past."