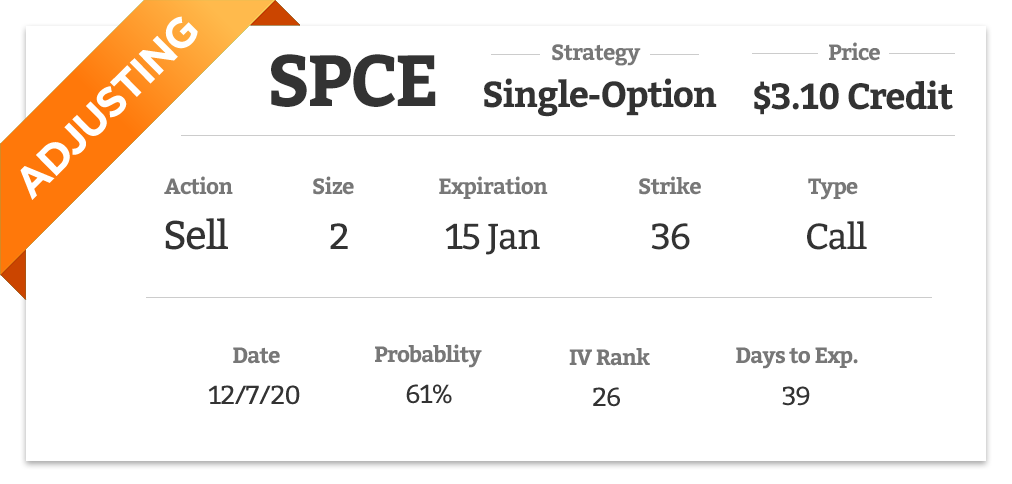 (This trade is only recommended for members who entered our original Virgin Galactic (SPCE) trade last month.)
Virgin Galactic (SPCE) has been another blockbuster winner for our Ultra portfolio. In just five weeks, the position's call side is up nearly 150%, while the put side of the position is up nearly 50%. This gives us a total net profit of over $1200 on a minimum order.
It's time to start making adjustments!
Although the long-term outlook for space exploration in the private sector is continuing to look more and more positive, I want to hedge our position and turn an asset we already own into a money generating machine.
By owning long-term calls, we can now sell short-term upside premium against our long-term position to put additional money in our pocket.
Today we're going to sell the January 2021 36-strike price calls for a price of $3.10.
If SPCE stock price fails to reach $36 by expiration next month, we will keep the $620 premium as profit while maintaining our already extremely profitable long-term position.
Our breakeven on the short-term position is $39.20 (36-strike price +$3.10 premium).
If the stock were to go over $36, we would remain completely safe for any upside movement. Because we own longer-dated lower strike price calls, those will increase in value more than our near-term upside call position. This is important because if the stock trades higher, we will still make money because our long-term position will profit more than our short-term position will lose. If the stock trades sideways or down, we will also make money as the short-term position decays.
Our trade in SPCE is the perfect position to be, we are not only extremely profitable on our original trade, but we are now in a position to generate additional income from that asset.