Introduction
Following this latest oil price crash, it was no surprise that Viper Energy Partners (VNOM) reduced their distributions by a massive 93%, which has brought their once very high yield down to only a very low 1.27%. Thankfully, not all hope is lost as they have a variable distribution policy that sees their distributions changing to reflect their real-time financial performance. Whilst investors may be expecting a return to their former very high yielding days, based upon recent commentary from management, it appears that they should expect materially lower distributions in the future.
Commentary From Management
Since they are a mineral rights investment vehicle that is almost exclusively owned for income purposes, their future income prospects are likely central to virtually all investment theses. When discussing this topic during their second quarter of 2020 results conference call, their management made the following commentary.
"I think the first step is to get the payout up from 25% to 50%. And then have real conversations with the Board on what the future holds. I think overall, relying on capital markets for all of your acquisition activity is probably not the most prudent thing to do. But, we've had a history of being able to acquire and, and raise capital. And, you know, I think that's probably changing a little bit. But overall, we still want this to be a vehicle that pays out the majority of its free cash flow to our shareholders, the largest being Diamondback."
– Viper Energy Partners'
Image Source: Author.
Now moving onto their future income prospects and the first important variable is their ability to generate free cash flow at various different oil prices. Thankfully, their management has provided guidance that will form the basis of the following analysis, as the graph included below displays.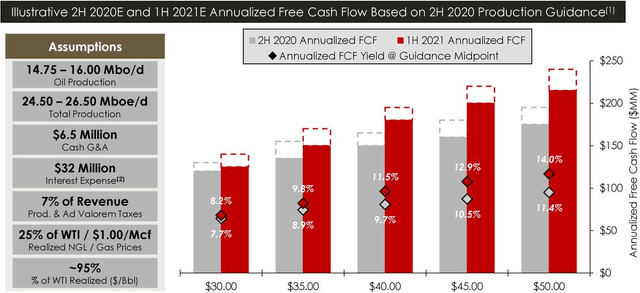 Image Source: Viper Energy Partners' Second Quarter Of 2020 Results Presentation.
When completing the analysis three different scenarios were included for each different oil price scenario to provide a full range of results, as the graph included below displays. To remain conservative, their annualized free cash flow was selected at the midpoint between their guidance for the second half of 2020 and the first half of 2021. Whilst Western Texas Intermediate crude oil is currently trading for around $39 per barrel, the future oil price is obviously unknown and thus this analysis allows investors to simply align their individual views against the results provided.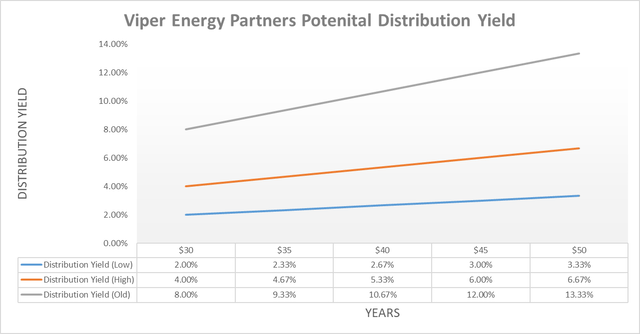 Image Source: Author.
The first scenario foresees their free cash flow payout ratio remaining at only 25% as they prioritize funding acquisitions and growth over short-term returns to unitholders, which seems to be the least likely path given their previous commentary. The second scenario foresees their free cash flow payout ratio increasing to their already flagged 50%, which seems to be a suitable middle-of-the-road scenario that provides a margin of safety given these unpredictable times. The final scenario represents their previous policy of distributing all of their free cash flow, which was primarily included for context since they have already flagged a desire to internally fund a portion of their acquisitions.
Conclusion
It appears that changes abound and thus investors should keep their expectations moderate since it appears that they are not willing to return all of their free cash flow to unitholders as they have done so in the past. Given this scenario, it appears that a conservative middle-of-the-road estimate for their future distribution yield on current cost would range between 4% and 6.67% depending on oil prices. Although this is decent, due to all of the general uncertainties as the world moves away from fossil fuels, I believe that a neutral rating is appropriate.
Notes: Unless specified otherwise, all figures in this article were taken from Viper Energy Partners' SEC filings, all calculated figures were performed by the author.
Disclosure: I/we have no positions in any stocks mentioned, and no plans to initiate any positions within the next 72 hours. I wrote this article myself, and it expresses my own opinions. I am not receiving compensation for it (other than from Seeking Alpha). I have no business relationship with any company whose stock is mentioned in this article.