Investment Thesis
Addus HomeCare Corporation (
Source: GMO
More than ever before, I think it is important for those who are active stock pickers to dig deep to find growth and value that are underappreciated. This is the best way to drive returns in an overvalued market. This had led me to far-flung corners of the market, such as my OTC top holding P10 Holdings (OTCPK:PIOE) or my favorite SPAC (NYSE:PSTH), and has more recently led me to stumble across Addus HomeCare Corporation.
Of course, the question is: does Addus fit the bill?
Addus HomeCare Corporation
Addus HomeCare Corporation operates in three segments, all of which are designed to bring its clients care at home. The first is "Personal Care," and this is by far the largest. This involves providing non-medical assistance with ADLs (Activities of Daily Living), critical for keeping elderly, ill, or disabled persons in their homes and out of nursing facilities. Note that this is not "medical" care and is really more just having someone come over to help out with things like the dishes and laundry and cooking. Addus' other two segments are much smaller and include home Hospice care as well as Home Health care – these require more skilled labor and are "medical" in nature.
The company was founded in 1979 but seems to have really taken off since about 2016 when they launched their "Strategic Transformation" with a goal of cutting costs, expanding, and initiating an acquisition strategy.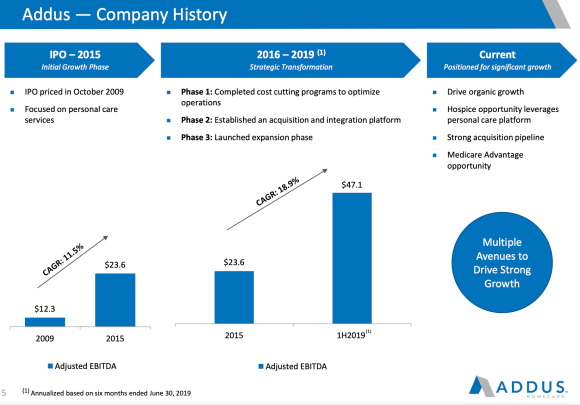 Not surprisingly, this robust shift in strategy – and in rate of growth – correlates current CEO Dirk Allison's ascension to this post. I am fairly impressed at the work he has done since taking over, and at 63 years old and only 4 years into his time as CEO, it looks like we will be able to back him for years yet.
For a number of reasons I will outline below, I think Addus looks like a compelling growth play. In my opinion, it has the right strategy, in the right industry, and it sits at the center of a number of growing trends in the healthcare sphere. While I don't love everything about the company – and we will get to some of my concerns below – overall, I think this one looks like a winner.
Beneficiary of Healthcare Trends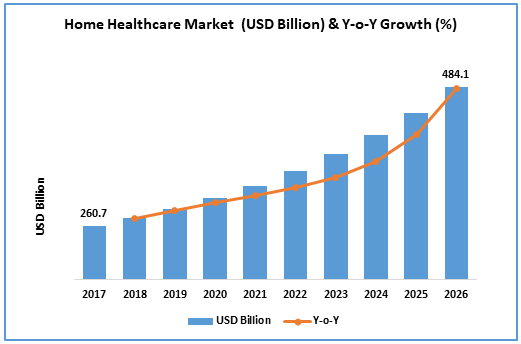 Source: Polaris
Addus stands to benefit from three huge trends in the healthcare industry:
1.) Aging population
2.) Increased size of the "chronically ill or disabled" population
3.) The desire to keep people at home
Let me unpack this.
The first two probably aren't going to blow anyone here away. Everyone knows that the population is aging. Everyone knows the Baby Boomers are on the cusp of old age, where they will have increased healthcare requirements, or, as is relevant to Addus, increased support needs at home so they can stay at home. Similarly, medical advancements are creating an increased population of people who are disabled or chronically ill with complex medical problems. These people also need support to be able to live at home safely, and their population is growing as well.
Where things really become relevant to Addus though, is the big trend in healthcare towards trying to keep people at home and out of hospitals and nursing facilities in any and every way possible.
Reimbursers are laser-focused on this.
Why?
Costs.
Hospitalizations are obscenely expensive, especially as compared to home care. Worse, in elderly and chronically ill patients, hospitalizations can turn into something of a vicious cycle due to the risk of hospital-acquired infections, delirium, sarcopenia or deconditioning, post-operative/procedural complications, and the burden of medication changes. This vicious cycle is spectacularly expensive.
Not only do medical systems want to keep these people at home and out of the hospital and nursing facilities, but the patients want this as well. They enjoy greater quality of life at home. Nursing facilities are similarly expensive as compared to home care, and this is increasingly a cost that patients and families have to eat, as not all reimbursement plans cover nursing facilities. You can certainly expect patients and their families to opt for home care as much as possible.
Patients and payors are largely after the same thing here: to keep people at home.
To be clear, actual "home health" services are a minority piece of Addus' business. Most of what they do is "personal care," or, assistance with activities of daily living. However, maintaining the ability to perform that self-care at home is key for not only keeping these patients out of nursing homes but also to maintain high baseline health to reduce risk of hospitalization. Thus, Addus certainly stands to benefit from the above trends.
Addus' Growth Strategy
All right, so we've established that Addus is in the right industry. Beyond that, though, Addus has a three-pronged growth strategy that includes:
1.) Continued acquisitions at attractive multiples.
2.) Organic growth and efficiency.
3.) Expansion into Hospice Care.
We will take a look at each of these.
Acquisitions
Addus has been on an aggressive acquisition spree in what it describes as a fragmented, mom-and-pop style industry with few players of scale.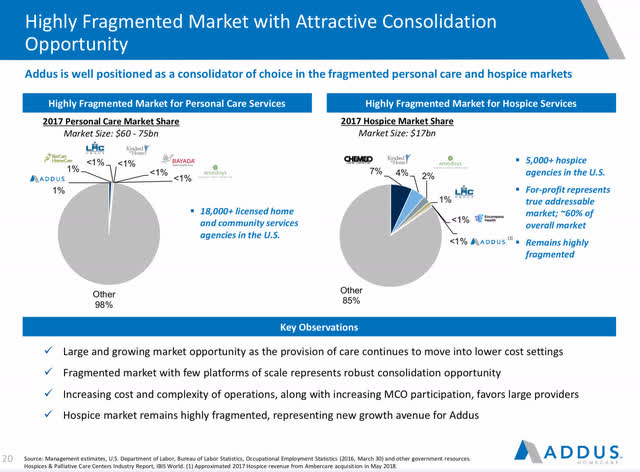 Addus is rolling these up, frequently at enviable multiples like 1xsales, and their growing scale is allowing them to improve margins through synergies and cost control. This is an industry literally begging for this sort of roll-up.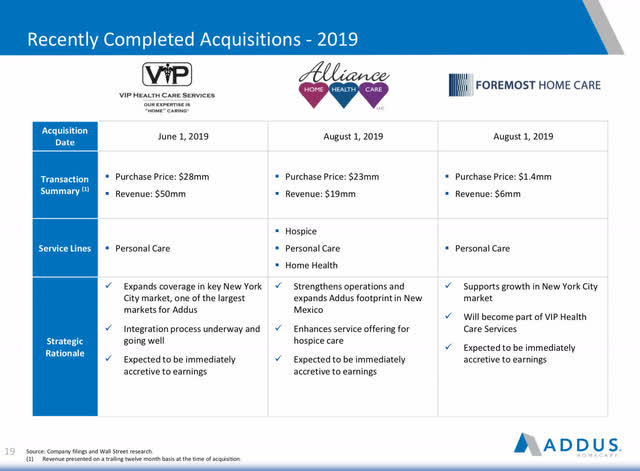 As noted in the examples above, the acquisitions are generally at low multiples compared to sales. With its size and reach, I think Addus is typically able to produce synergies or at least improve efficiency within the smaller shops it acquires, further improving the return on investment.
Most recently, Addus closed on A Plus Health Care in Montana, expected to add an annualized ~$10m in revenue, and CEO Dirk Allison indicated on the conference call an annual goal of acquiring roughly ~$100m in revenue. This also serves the purpose of further diversifying their payor base.
This is a significant concern for Addus, as it used to receive the vast majority of their revenues from the State of Illinois as seen in their 2019 Investor Presentation: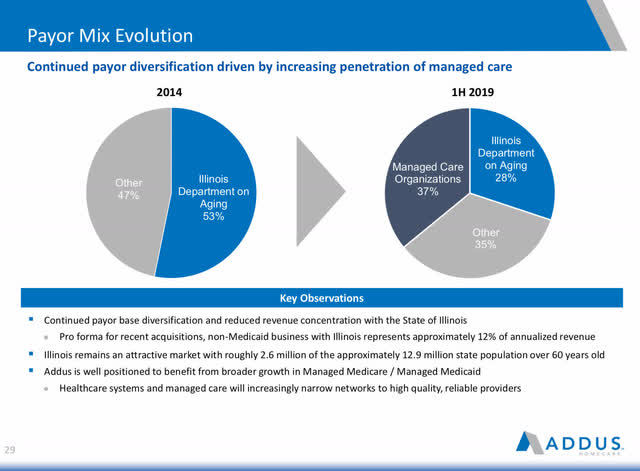 While they are still highly reliant on Illinois, they have taken meaningful steps to diversify their revenues and are now active in 26 states with Illinois reduced to about 30% of revenue. I consider this less of a risk than it was previously, but is something worth keeping an eye on.
Despite the acquisitions, however, Addus has been able to maintain a very clean balance sheet. Addus carries $160m in cash against only $80m in debt on its balance sheet, a phenomenal ratio, especially for a roll-up play company. They have ample liquidity and can lean much, much deeper into the leverage department if needed for acquisitions. By the way, this $160m in cash amounts to about $10 per share, making the valuation just a bit easier to stomach (we will get there).
Organic Growth
While many roll-up play companies tend to grow through those acquisitions, Addus has actually done a phenomenal job of continuing organic or "same-store" growth. Personal Care same-store revenue growth increased by 9.7% year over year in the last quarter.
In fact, one of the current limiting factors on Addus' growth is that they are having a hard time finding enough potential employees to meet demand given the high unemployment benefits currently offered by the government.
I would much rather invest in a company that has too much demand than too little.
Hospice Care
Last, Addus sees Hospice Care as a large growth area for the company. Just like the Personal Care industry, hospice is also highly fragmented and ripe for roll-ups. It also stands to benefit from our country's demographic trends, and represents a $17-billion dollar industry, offering Addus considerable room for growth. Additionally, this further serves to diversify Addus' revenue streams away from being solely reliant on Home Care. Last, similar to personal care, it is considered lower cost than inpatient or nursing facilities with the potential to offer patients higher quality of life.
Year over year, Hospice Care revenue has increased from 5.6% of revenue to 13.3% of revenue in the most recent quarter. Management projects a large growth runway here, and I completely agree.
The Result? Excellent Growth
Together, this has yielded phenomenal growth for Addus.
Over the last decade, Addus has grown annual revenues at about 11% annually, closer to 17% over the last 5 years. Earnings have followed, growing at a rate of 13% annually over the last 5 years. Even better, as I noted above, growth is coming both from acquisitions and also from organic growth (~10% most recently) in the already-controlled businesses.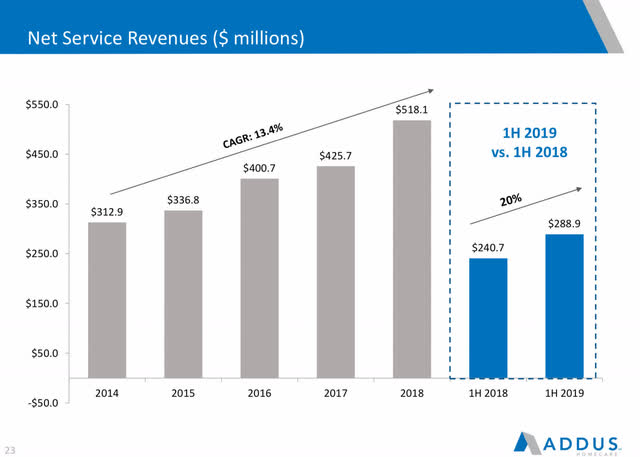 Source: Addus' 2019 Investor Presentation
This trend has continued into last quarter where Addus notched very strong numbers, especially in light of potential COVID related headwinds. Addus noted revenue increase of 23.9% year over year to $184.6 million and a 30.5% increase in net income to $6.9 million.
It's Not All Roses – Addus Has Some Downsides
If you only read the above, you would probably be on board with the investment thesis. Unfortunately, when you dig a little deeper, it becomes clear Addus has some warts.
Valuation Concerns
My first – and largest – holdup with Addus stock is the valuation. The stock trades at a P/E ratio of around 45. The long-term growth trajectory makes this more palatable, but at this valuation, the margin of safety is significantly reduced.
If we take the 2020 net income and annualize it, then factor in continued 17% growth for the next five years, we end up with a 2025 net income of $68.4 million.
The terminal PE ratio at this point shows the wide range of possible changes in the company's ending valuation.
At a continued multiple of 45 (which I find unlikely), we end up with a company worth $3.1 billion, a 17% CAGR (consistent with the growth rate).
However, if the margin compresses to 25 (which is likely slightly bearish given the growth rate), we end up with a company worth $1.7 billion, a 3.5% CAGR. As you can see, the current valuation has the potential to cut meaningfully into our final results if there is any multiple compression.
The middle case with a final multiple of 33 leaves us with a $2.26 billion company, a 9.6% CAGR. With broader market valuations stretched, this may be a reasonable return for the coming five years. However, it relies on management to continue to execute at a high level and there to be no share count dilution. I will discuss these factors below as there are concerns with each.
Political or Payor Risk
While – as I outlined above – I believe in the long-term trajectory of the home care and hospice care segments, there is no denying the risk of relying on government healthcare plan reimbursement for one's income. Politics can change reimbursement policies quite literally any given year, and there is no question our government will increasingly eye ways to cut healthcare costs.
As an example of the risk posed by this, New York State is cutting reimbursement to Medicaid providers by 1% due to its budget stressors. Addus has indicated it will work with New York State lawmakers to educate them regarding the cost benefits of Addus' services, but the company has not provided information regarding the impact of this on revenues and margins.
The unfortunate fact here for Addus is that this type of change can be made at any time, and in the wake of COVID-related state budget crunches, it is not unreasonable to think other states will be following suit.
Again, I think this actually could be a tailwind for Addus, whose care is economical, but I as yet have limited faith in our politicians to make good decisions.
The other side to this is the risk of changes to minimum wage laws. Addus is already anticipating the $1 increase in Illinois minimum wage from $13 to $14 to cut into margins, as many of their home care employees in the state are paid at minimum wage.
Each of these represents a headwind to Addus' ability to continue to grow at its previous rates.
Increase In Shares Outstanding
Somewhat inexplicably for a company with Addus' growth prospects and significant net cash position, Addus has made the choice to make some of its acquisitions with stock issuance.
Additionally, stock-based compensation has risen in recent years, starting as an expense of $500,000 in 2013 but rising to $5.8 million in 2019, meaningfully biting into net income.
Between those two factors, shares outstanding has risen substantially, increasing by nearly 50% over the last 5 years.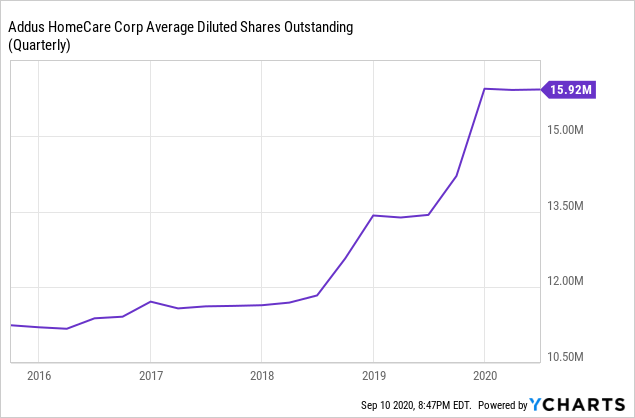 This is not a trend I would like to see continuing and will meaningfully bite into shareholders' ability to enjoy the results of the company's growth.
Misleading Adjusted Earnings
What I really don't love is the ridiculous "Adjusted Earnings" that Addus trots out every quarter. Take a look: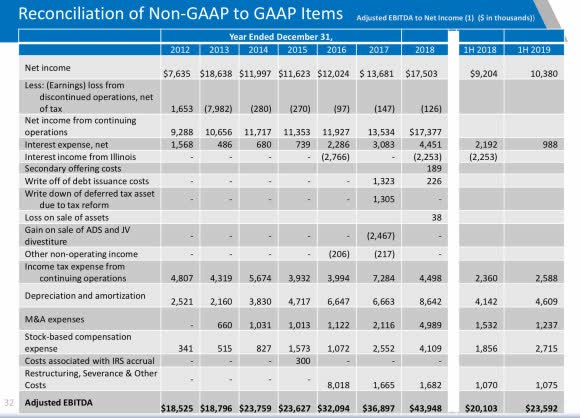 It's asinine.
Their adjusted earnings are frequently twice as high – or more – than their actual net income, and the adjustments are ridiculous.
Yeah, we'll just pull out stock-based comp; you know, it's a big number that investors won't like… and, we'll just pull out income tax expense, because, we don't like that one, and, uh, oh, yeah, we wouldn't want interest expense in there either.
Ridiculous. That stuff costs money. Real money.
I think what management is trying to do is come up with a number that reflects the raw earnings power of the underlying business. That's fine. Clearly, their business prints money left and right. That said, to pretend this adjusted earnings is a useful number for valuation purposes does nothing but saps credibility from management in my eyes.
Minor Stuff
Addus delayed release of its financial statements this year due to an auditing problem. I'm not terribly worried about this. It looks like this was over a relatively insubstantial amount of money, and the issue is in the past. I'm over it.
Additionally, while Addus has taken significant steps to diversify its payor base, it is still fairly reliant on Illinois. Personally, I think the company has sufficiently reduced this risk – and is continuing to reduce this risk – such that it is no longer very high on my list of worries for Addus.
Conclusion
Addus Homecare Corporation operates in a strong growth industry where it has ably demonstrated the ability to make accretive acquisitions at great prices. The company has taken significant steps to reduce its geographic/payor risk, and management has done a phenomenal job of executing their strategic vision. However, valuation is a significant concern, and the company has a handful of warts including misleading adjusted earnings and large growth in shares outstanding.
Overall, I think Addus is a very attractive company to invest in if we are able to buy in at a better multiple. However, the company is currently priced to perfection despite several meaningful concerns as outlined above. I have established a very small "benchwork" position and will monitor for a better entry point.
Disclosure: I am/we are long ADUS, PIOE, PSTH.U. I wrote this article myself, and it expresses my own opinions. I am not receiving compensation for it (other than from Seeking Alpha). I have no business relationship with any company whose stock is mentioned in this article.