(Image source: Investor presentation)
Stocks of companies that rely upon discretionary consumer spending – and in particular, those that require close-quarters socializing – have been crushed this year. Some have recovered more than others, but one that I think has recovered a bit too much is Dave & Buster's (PLAY). I've been a bull on PLAY in the past, but at this point, with shares at nearly $19 heading into an earnings report in a few days, I think shares are set up for a decline.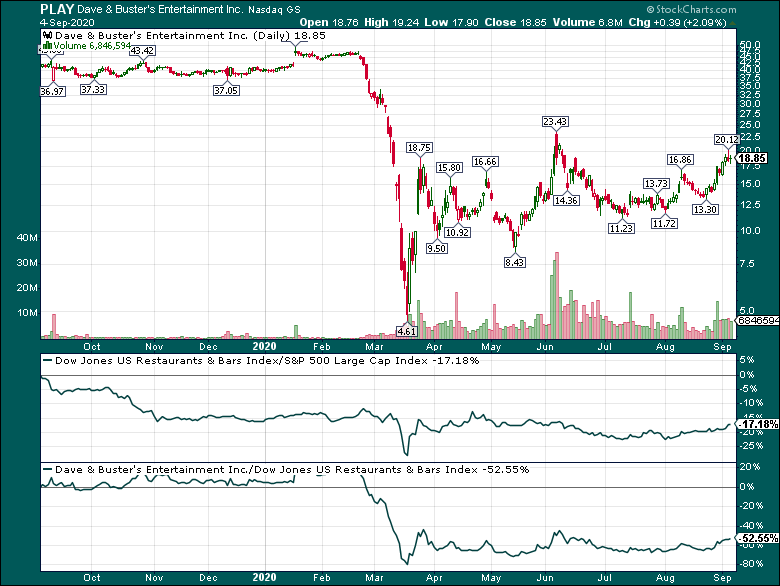 Before we look at the fundamentals, I like to look at relative strength to see how the market feels about a particular stock. In the middle panel, we can see that PLAY's peer group has been an underperformer for the past year. This is no surprise, but the interesting thing is that the underperformance began before the crisis, and while restaurants have recovered some ground in recent weeks, they're still not that great in terms of relative strength.
If we then look at PLAY's relative strength against its peers, the story is largely the same, but in a more significant magnitude. Thus, we have a stock in a group that hasn't performed all that well in the past year, and the stock has underperformed that group. In my view, this look at relative strength provides clues about how the market feels about PLAY – and it isn't bullish by any means.
Will growth return?
My biggest concern with PLAY is not whether the business model works or not, but rather how its model will fare in a post-COVID-19 world. After all, the company's model is centered around having lots of people socializing in very close quarters, touching machines and games over and over again to generate revenue. Will people be allowed to – and will they want to – return to some sort of normal with this kind of thing? Perhaps, but at this point, I think that is still very much up in the air. As a result, I'm concerned that the company will have a very difficult time getting back to anything like its former earnings trajectory.
As we can see below, PLAY was on a very nice upward trajectory with its revenue before the crisis hit.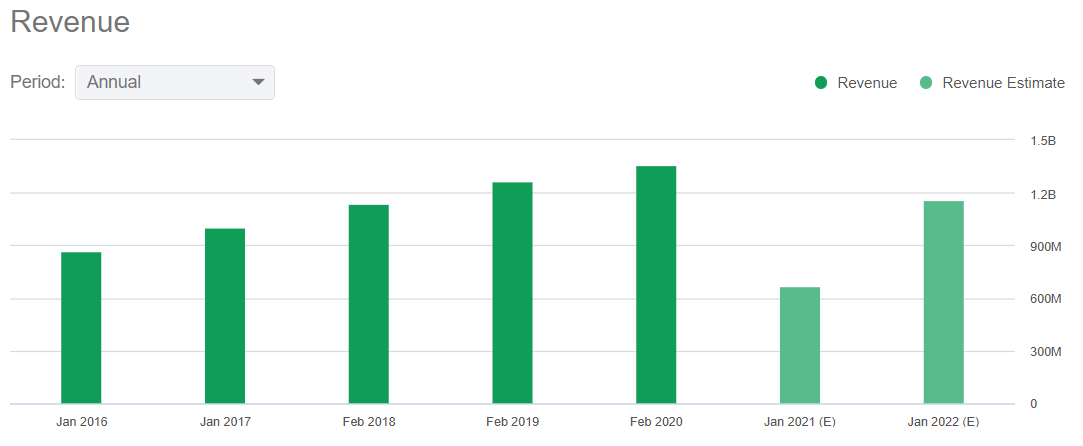 (Source: Seeking Alpha)
We can also see that damage from COVID-19 has been pretty devastating as well, with the top line slated to plunge roughly 50% this year. Although there is a rebound expected into next year – which makes sense given stores should be open in some capacity – it's still not close to where PLAY was before the crisis. In my view, this is down to the concern I raised above about PLAY being allowed to be open as it was before COVID-19 and whether or not demand would return in the same way. All indications at this point are that this may be quite a tall order.
The other thing is that it isn't like PLAY was on some enormously impressive growth trajectory before the crisis, as we can see with comparable sales below.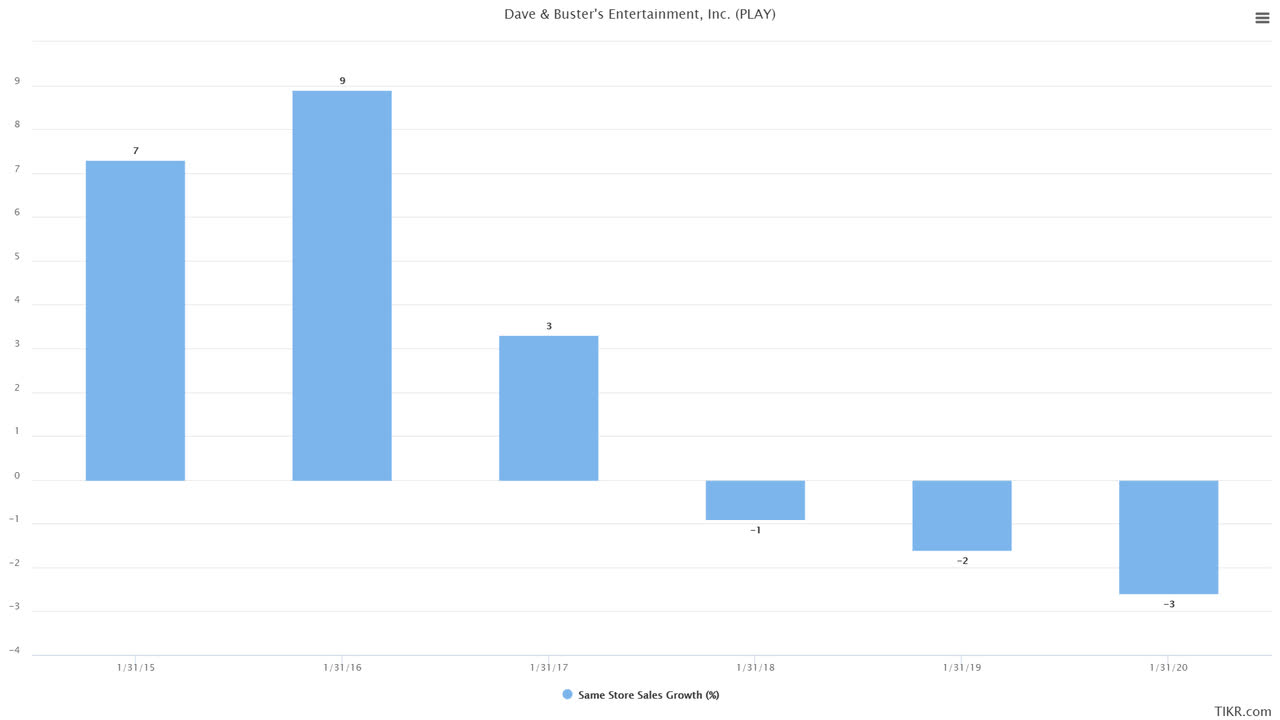 (Source: TIKR.com)
PLAY used to post hot comparable sales numbers, but it has been years since that was the case. The past three years have all been negative – with declines accelerating – and obviously, this year will be a fourth year on the trot. The streak will end next year, but I'd be very concerned about a business that headed into this crisis on the back foot trying to rebound out of it. In particular, I'm concerned about a business that is so far from social distancing practices.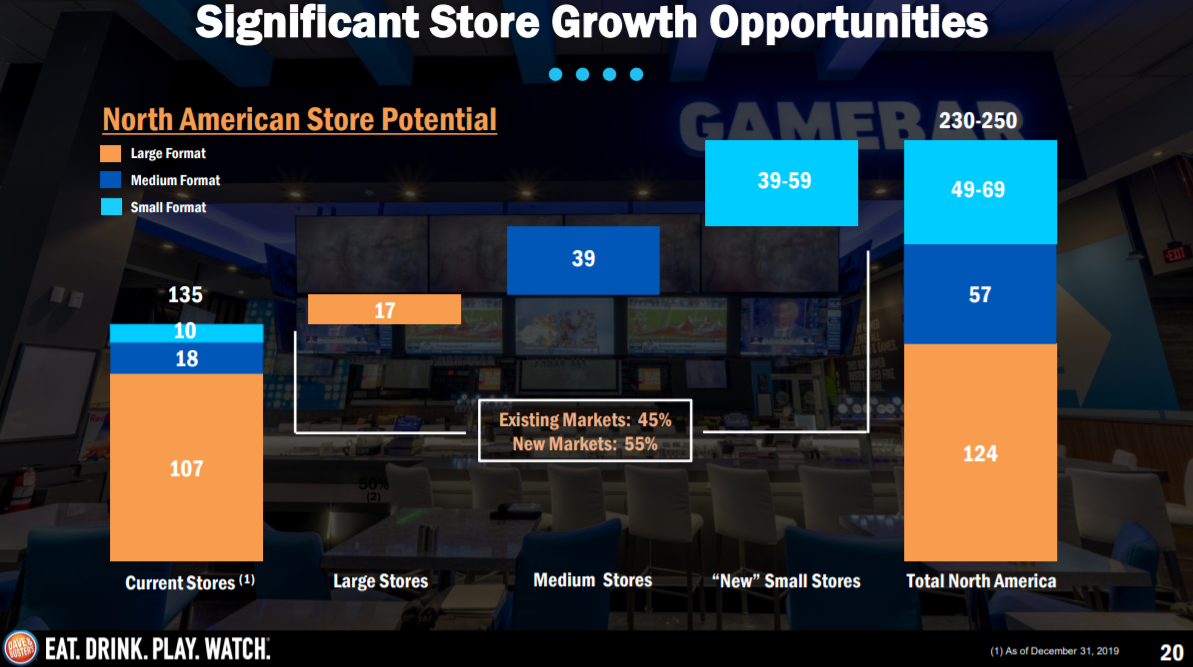 (Source: Investor presentation)
To be fair, PLAY reckons it can nearly double its current store count over time by adding smaller-format stores, with many of those being in new markets where the company isn't present today. I still think there's room for the store base to grow, but as we saw with comparable sales, the company's ability to grow the top line is now entirely dependent upon opening new stores. That isn't necessarily a recipe for success given that new stores are expensive to open and that PLAY has been fighting a years-long battle with declining comparable sales. Still, it is something to keep in mind to balance the bear argument.
Another impact of weakening comparable sales is margins, which rely upon revenue growth to leverage down fixed and operating costs.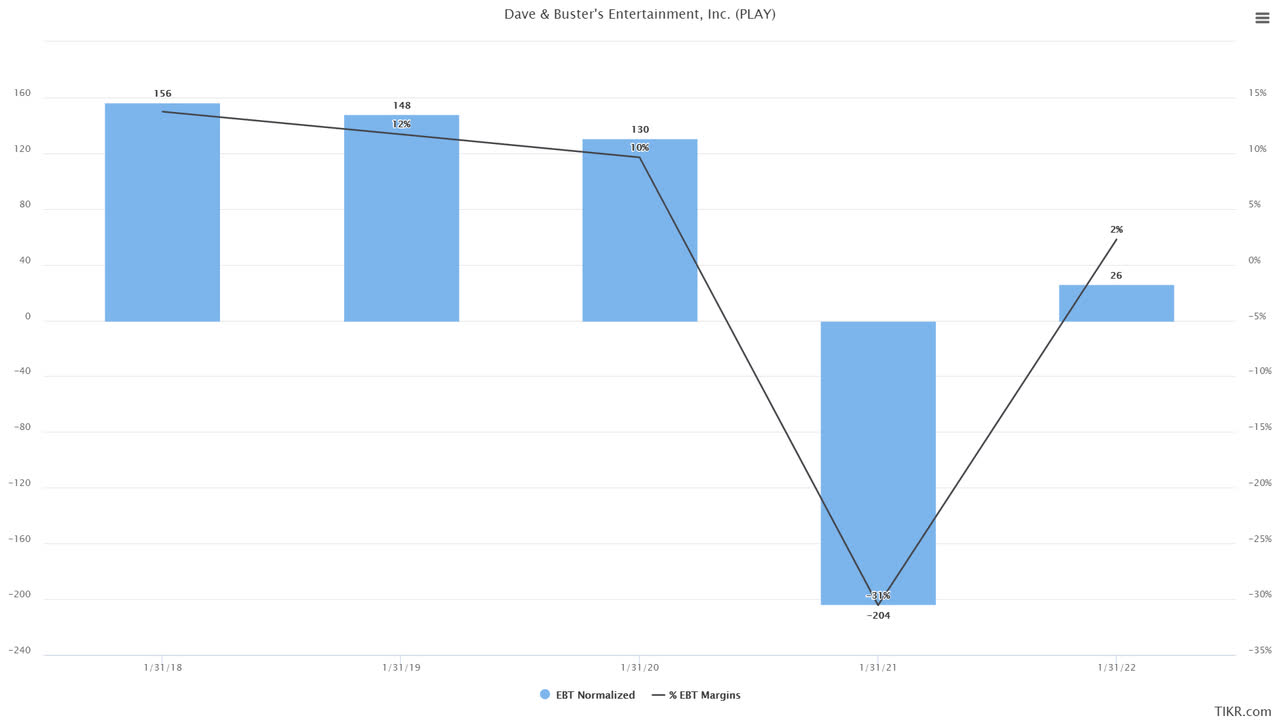 (Source: TIKR.com)
Above, we have earnings before taxes, or EBT, in millions of dollars, as well as EBT margins for the past three years, along with estimates for this year and next year. EBT margins have declined meaningfully in the past few years, and this year will be ugly, of course. But looking into next year, we can see the problem with PLAY's low revenue number – it needs more revenue than is currently expected to be profitable.
EBT margins are expected to be very slim next year, even with a huge rebound in revenue. This is why I'm concerned about PLAY; I think its revenue base is at risk, which then puts its margins at risk. This double whammy of a smaller top line and lower margins on that smaller top line is a dreadful combination.
Bottom line
Putting all of this together, I think PLAY is risky to hold into earnings. I'll note that short interest stands at 36% currently, so there are significant bets against the stock. If there's a rally off of earnings for some reason, the large number of shorted shares may be bought in a hurry, resulting in a short-squeeze. That's obviously not my base case, but it could happen.
Longer term, I think PLAY has some valuation issues to work through given what have I laid out above.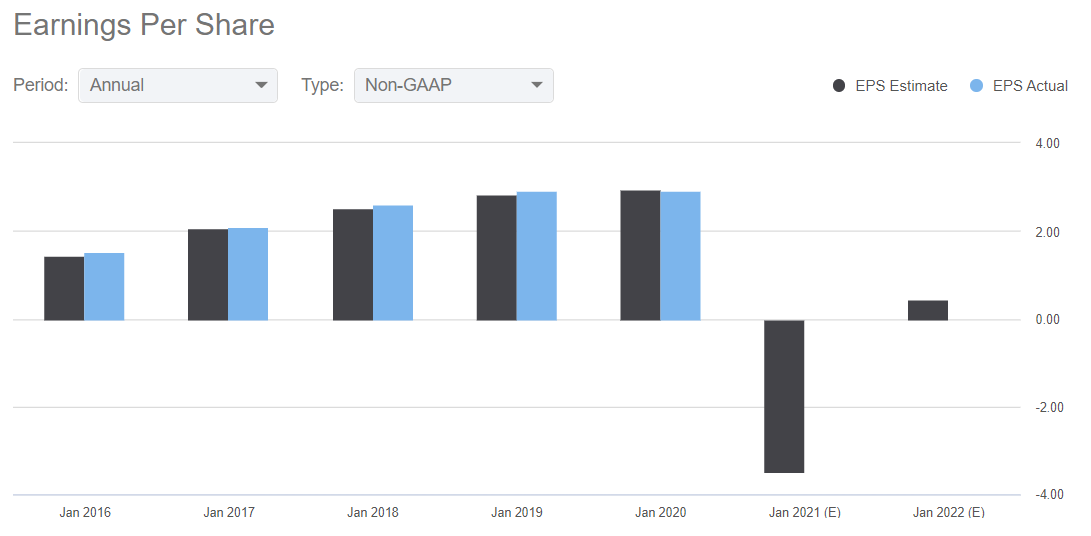 (Source: Seeking Alpha)
We see a nice, rapid ascent in earnings per share in prior years as the company opened more and more stores. However, with revenue tanking and taking margins with it, the outlook is much bleaker than it was.
In fact, we have to look out to fiscal 2023 to find a decent valuation at today's share price. Estimates are for just 44 cents in EPS next year, followed by $1.05 in fiscal 2023. Even so, shares are priced at 18 times fiscal 2023 earnings, which is about where I'd expect PLAY to trade in normal times.
With the huge amount of uncertainty lurking for PLAY, and a valuation that assumes a return to normal much more quickly than it appears will be the case, I think you have to sell the stock. I won't short it because of the high short interest and because of the earnings report coming this week, but I think it is going lower.
Disclosure: I/we have no positions in any stocks mentioned, and no plans to initiate any positions within the next 72 hours. I wrote this article myself, and it expresses my own opinions. I am not receiving compensation for it (other than from Seeking Alpha). I have no business relationship with any company whose stock is mentioned in this article.