Nvidia (NASDAQ:
ARM Holdings – Apple Insider
ARM Holdings Largest Customers
Traditional CPU companies like Intel (NASDAQ: INTC) and AMD (NASDAQ: AMD) have significant gaps in their business model. Specifically, despite their profit margins, the companies have a significant lack of customization within their products. Features like Apple's (NASDAQ: AAPL) neural engine that support FaceID would never be feasible on other companies' CPUs.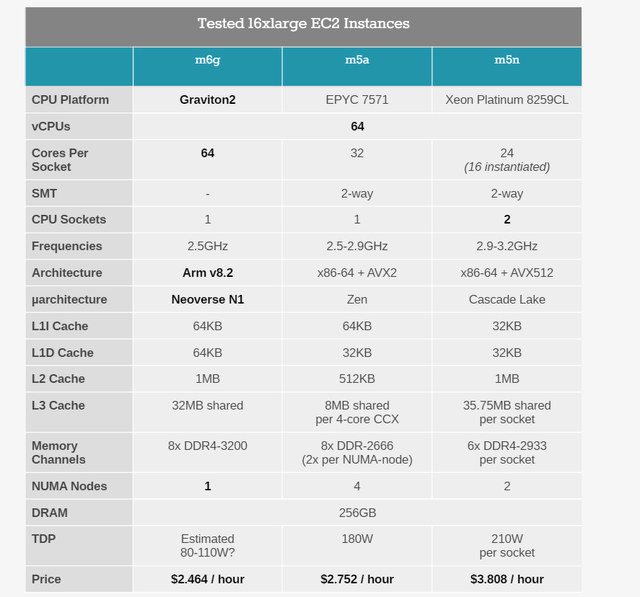 Graviton Competition – Anandtech
As companies have realized this, and tech companies have become larger, there's been additional incentives to add this customization. For example, Amazon (NASDAQ:AMZN) has created the ARM Holdings-based "Graviton" compute instance on ARM Holdings, comparable to Intel and AMD instances, but at a lower price and significantly lower power usage.
In fact, while AMD and ARM Holdings excel here, from a cost effectiveness standpoint, Intel is well behind. These largest tech companies have become some of ARM Holdings' largest customers. On the flip side of things, there's increased incentive for companies like Intel and AMD to use their processor expertise to develop ARM Holdings' solutions for companies.
These days companies like Apple, Amazon and network companies are becoming some of ARM Holdings' largest customers. Many of these companies are competitors in some sense with Nvidia. That's significant because these companies would likely be incentivized to move away from ARM Holdings to something that's independent.
RISC-V Architecture and Potential
As technology companies become larger and larger, they have the development bandwidth to move towards solutions with significant potential long-term payoffs. Apple, through its acquisition of Intel's smartphone modem division, is making a long-term play on modems and their potential, and as we enter the era of multi-trillion dollar companies, that's not surprising.
The key takeaway is that major companies, in the same sense that they can shift to ARM Holdings' processors to provide scale and ability over Intel or AMD can shift to an architecture that doesn't have the ARM Holdings owned by Nvidia risks. RISC-V, created by the University of California, Berkeley is an open source computing architecture expandable up to 128 bits (versus 64 bits currently).
RISC-V has several major benefits over ARM Holdings. However, the most significant to major companies is extensibility. That means that customers can customize the architecture even further than ARM Holdings to provide features that benefit their shareholders most significantly. That, combined with RISC-V being open source, means there's no risk of future ownership concentration.
That alone might justify customers investigating making the multi-year investment in switching to RISC-V. We expect that, while it might not be public, research has already begun. A potential acquisition by a competitor, Nvidia, could help accelerate this switch and investment much further. And it threatens to impact ARM Holdings' value to Nvidia.
In fact, it could even be the reason for certain "milestones" in the acquisition amounting to ~13% of the acquisition price.
RISC-V Potential Effects
RISC-V has significant potential effects which we've already taken the opportunity to discuss above.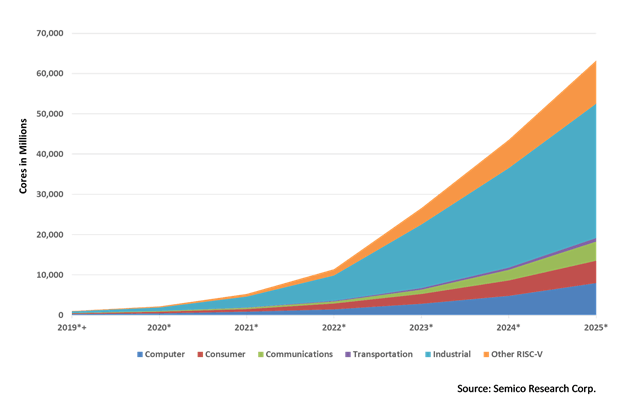 RISC-V Dramatic Growth – RISC-V
RISC-V is expected to experience dramatic growth, starting in the industrial category, but also in numerous other segments. Now, it's important to keep in mind the size difference. ARM Holdings shipped 50 billion processors from 1991-2014, and as of Feb. 2020 has shipped more than 160 billion processors.
Current annual ARM Holdings processor shipment rates are in the range of 25-30 billion annualized. From 2024-2025, RISC-V is estimating to ship roughly 20 billion processors, up from 15 billion in 2023-2024. These numbers would indicate that RISC-V is only 6-7 years behind ARM Holdings. While that's a long time in the computing world it points to potential growth and scale for RISC-V.
As RISC-V grows the costs of switching to the platform become smaller.
Regulatory Issues
At the same time, there's the expectation for significant regulatory pressure on the Nvidia and ARM Holdings deal.
If Nvidia decides to proceed with an acquisition attempt, it would likely be met with intense regulatory scrutiny. According to the Bloomberg report, Softbank was seen as a relatively neutral buyer for Arm when it made the acquisition in 2016, which helped the deal pass regulatory scrutiny. Many of Nvidia's competitors license Arm architecture, and they may oppose the potential acquisition on these grounds.

– Potential Regulatory Scrutiny Bloomberg
Bloomberg has already discussed this, but specifically, while SoftBank is more of an "independent" holding company for tech assets, the same is most certainly not the case for Nvidia. In fact, Nvidia, through its Tegra chip line, is actually a significant customer of ARM Holdings. As a result, despite Nvidia's ability to promise to keep the businesses separate, customers could protest.
These regulatory issues are significant for several reasons. First, they could potentially provide significant legal expenses to Nvidia without the benefit if the acquisition is called off. Or they could come with regulatory stipulations that negatively hurt Nvidia's ability to provide sufficient support to the company's customers.
Second, they could cause uncertainty to customers and the path forward as a customer going forward. Customers concerned about the integration with Nvidia and the levels of regulatory restrictions might have to wait months or years to find the answer. They might even find it easier to simply disassociate from the entire process.
Lastly, ARM Holdings itself will have a significant regulatory overhead to go through the acquisition. That might negatively impact its ability to support customers in a way that it didn't previously even if there's no other acquisition concerns. That might also convince companies that don't want to deal with the uncertainty to switch away.
Our Investment View
Our analysis of this investment is that investors, which have jumped on the "news" for numerous tech stocks recently might do the same for Nvidia. The idea of the next big "artificial intelligence" company joining with the wave of independent CPU manufacturing through ARM Holdings might provide a massive boost to Nvidia's stock.
As these "hip" new technology companies reach record-breaking valuations, that's increasingly possible. Nvidia's stock has gone up by 170% over the past year with no significant changes in its fundamentals. The fact that nearly half the net acquisition price (assuming the $5 billion bonus comes from stock) is in this "expensive" stock might be supported by the market.
The market might see it as a "cheap" undervalued acquisition with a price much lower than the improvement of the NASDAQ since 2016. This could cause Nvidia's share price to increase. We recommend investors sell the news. Nvidia is approaching a triple-digit P/E ratio with a high double-digit ratio even based on 2022 forecast EPS.
We recommend any potential share price gains make selling Nvidia's stock at this time a great move for shareholders.
Thesis Risks
Of course, there are some risks to our thesis. Specifically, the combination with Nvidia could enable ARM Holdings to reach new customers and soar to new heights in profits given Nvidia's reach. ARM Holdings itself might even choose to begin making and selling its own CPUs, potentially partnering with OS makers like Microsoft (NASDAQ:MSFT), with the goal of being fully competitive with AMD and Intel.
That competition could dramatically increase the value of ARM Holdings, which already has a large customer base to start with. That could significantly increase Nvidia's long-term value.
Conclusion
Nvidia has recently announced the acquisition of ARM Holdings for a staggering $40 billion. That represents a strong return for SoftBank; however, the improvement is much less than what the NASDAQ has returned over the same multi-year time period. In fact, arguably, ARM Holdings has significant potential.
However, we expect the potential acquisition by a customer will cause significant regulatory issues. Those regulatory issues combined with consumer concerns over concentration make the announced deal a sign to sell Nvidia stock. Given the company's overall valuation, we recommend investors sell the news.
Create a High Yield Energy Portfolio – 2 Week Free Trial!
The Energy Forum can help you generate high-yield income from a portfolio of quality energy companies. Worldwide energy demand is growing and you can be a part of this exciting trend.
Also read about our newly launched "Income Portfolio," a non-sector specific income portfolio.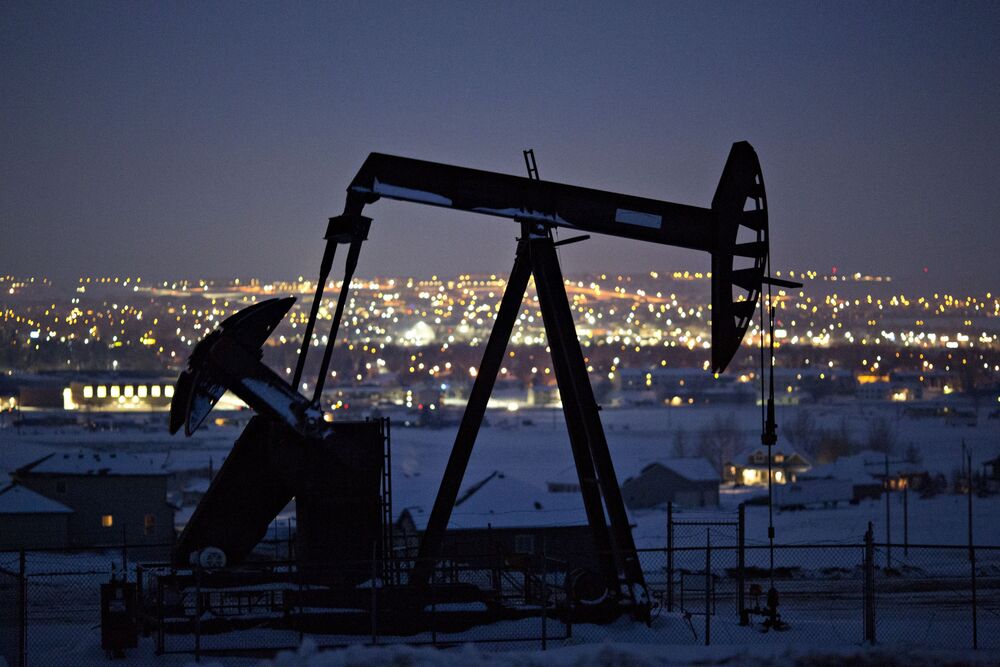 The Energy Forum provides:
Managed model portfolios to generate high-yield returns.
Deep-dive research reports about quality investment opportunities.
Macroeconomic market overviews.
Click for a 2-week free trial, with an unconditional money back guarantee and 47% off of our popular annual plan! There's nothing to lose and everything to gain!
Disclosure: I am/we are long NVDA, AAPL, AMD, INTC. I wrote this article myself, and it expresses my own opinions. I am not receiving compensation for it (other than from Seeking Alpha). I have no business relationship with any company whose stock is mentioned in this article.