Hess Midstream (HESM) management confirmed during the conference call that they expect to increase EBITDA 25% in the next fiscal year. They just increased the distribution for the second time this fiscal year while maintaining a coverage of 1.2. This rapidly growing company will not be slowing down anytime soon. As such it offers that rare combination of good growth prospects with that very generous midstream distribution.
Management intends to increase the dividend at a 5% annual rate for the time being. This partnership distribution coverage ratio is expected to grow to 1.4 next year which portends still more dividend increases in the future. The financial leverage of long term debt to EBITDA is 3.0 at the most. That leverage is far lower than many major partnerships I cover. This rapidly growing partnership will continue to leave much of the industry breathless with that growth rate.
There is a possibility that at some point Hess (HES) will have to focus on the partnership with Exxon Mobil (XOM) until the partnership becomes cash flow positive. But given the expected profitability of the partnership, that cash flow positive could be as early as 2022 (depending upon the price of oil of course). Once the partnership is cash flow positive, then Hess will be developing the Bakken with a fair amount of cash at its disposal.
DAPL Pipeline Dispute
The DAPL pipeline dispute that I have discussed elsewhere does not really affect the operations of Hess Midstream. Instead, Hess Midstream will likely focus on possible long term solutions to the issue. Currently there is a fair amount of excess capacity. Therefore it is likely that Hess can at least temporarily route oil to market through another pipeline. But even if the oil has to go by rail (relatively expense) or truck (very expensive) this is a Hess borne cost and not a midstream liability.
Source: Hess Midstream June 2020, Investor Presentation
Thanks to Hess Midstream, Hess Corporation has a number of markets to get the oil to. Therefore the elimination of one pathway probably will incur some extra costs for awhile. But the midstream is clearly in position to be a part of the permanent solution to eliminate those temporary extra costs.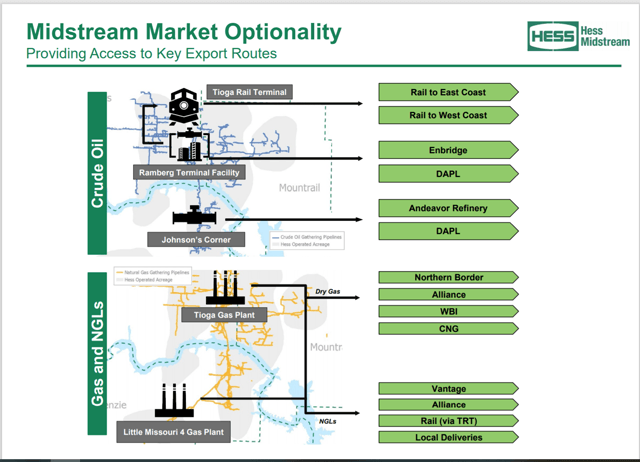 Hess Midstream January 2020, Investor Presentation
Here is an older illustration of the markets to which Hess can ship its production to. It should be clear from this illustration that a complete shutdown of DAPL would be inconvenient. But Hess clearly has ways around the situation until a more permanent solution is found.
Growth Pathways
Hess Midstream has a relatively new water business. That new business offers Hess Corporation a way to cut costs going forward while providing Hess Midstream with a steadily increasing source of revenue.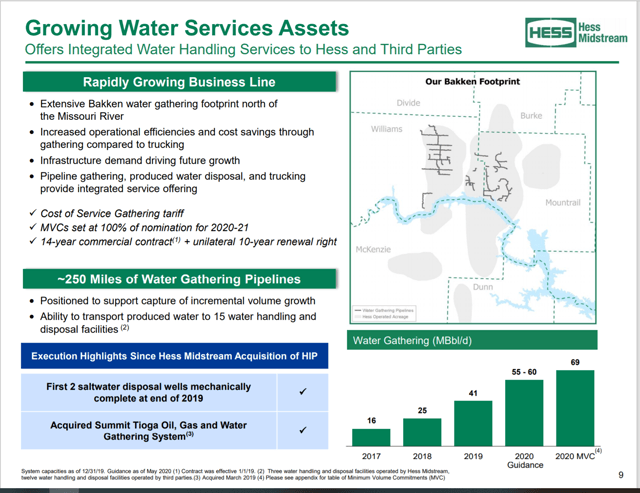 Source: Hess Midstream June 2020, Investor Presentation
Water produced by older wells tends to increase as the wells age. The midstream acquired a water gathering system that can be easily expanded in the future. Even though the growth of water handled may slow or even temporarily reverse due to low drilling activity, the existing production will produce more water as a general rule.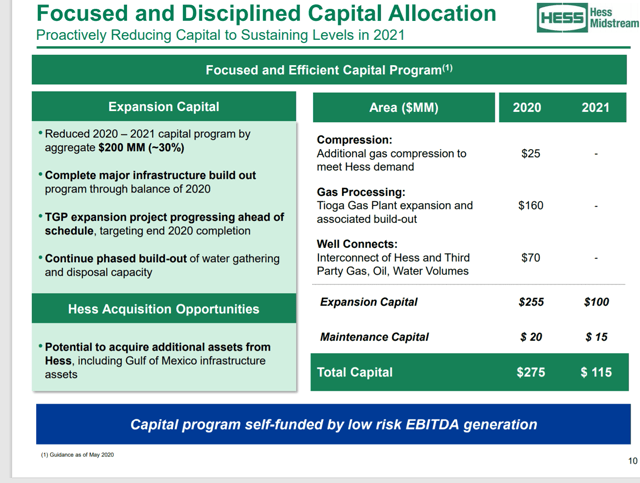 Source: Hess Midstream June 2020, Investor Presentation
Hess Midstream can also grow by acquiring more 3rd party business. This is one of the few "captive" midstream partnerships that is actively looking to diversify away from its dependence on Hess Corporation. Therefore this partnership could make an acquisition should Hess temporarily slow Bakken activity to maintain partnership growth rates during that slower activity period.
Cash Flows
This midstream intends to avoid shareholder dilution for the foreseeable future.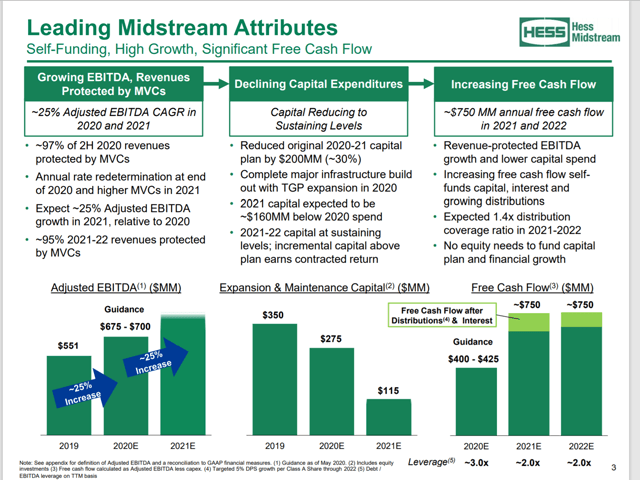 Source: Hess Midstream June 2020, Investor Presentation
Rising cash flow and industry leading low leverage allow this partnership to self-fund the capital budget while searching for accretive business and acquisition opportunities.
The water handling business is relatively new to the industry. But the profitability of water handling is much greater than the profitability of transporting marketable products. Many of these wells produce a multiple (2,3,4 or even greater) of water than marketable products. That means that the mixture of profitable services for (especially captive) midstream companies is about to change. The market for water handling will always be far larger than the market for transporting production until the characteristics of the typical oil well change.
Furthermore, several of these basins, such as the Permian, are located in semi-arid or arid areas. The demand for treatment of any produced water for use outside the oil and gas industry is likely to climb with population growth. Water, in general, is likely to provide a robust growth pathway in the future. The water part of the oil and gas industry is really just beginning.
Summary
Hess Midstream has a decent growth record in the past. That growth record is likely to continue into the future.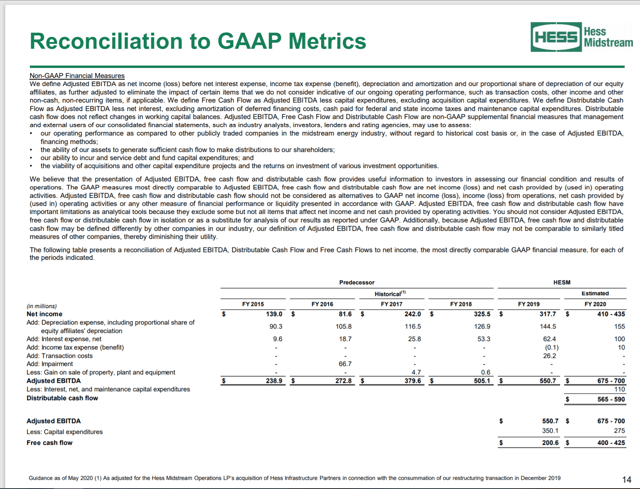 Source: Hess Midstream June 2020, Investor Presentation
This midstream continues to be a source of cash that Hess Corporation needs to develop the discoveries off the coast of Guyana. As such Hess Corporation may sell to Hess Midstream other assets such as the Gulf of Mexico infrastructure. Hess Midstream maintains a very strong capital structure to handle additional acquisitions.
Unlike many midstream companies with one major customer, there are two major partners that own large percentages of the common. Therefore any dropdown deals will have a "second set of eyes" reviewing the transaction. That sort of "check and balance" is very unusual in this industry. So far most of us have had some very negative experiences with the Conflicts Committee reviews of fairness. Therefore the presence of two major shareholders is a material difference not often seen in the midstream limited partner industry.
Water handling is a relatively new business with a fairly secure growth future because the water business promises significant reductions in operating costs. Similarly, the acquisition and now expansion of the Tioga plant and accompanying assets likewise promise cost reductions. These assets may also add to the ability to get that production to a wider variety of markets.
In the meantime, the need for the Dakota Access Pipeline is overblown in the current environment. The coronavirus issues will be hanging around longer than originally foreseen to decrease demand (and hence corresponding supplies) for awhile. Therefore pipeline access should be adequate regardless of what happens in the current dispute. There is also access to shipping by rail.
Even if the current dispute would cause some kind of pipeline shortage, there are other ways to get the product to market until a permanent solution is found. None of the temporary solutions would significantly impact Hess Midstream earnings abilities.
In short, the growth record of the past is likely to continue into the future. There is always the possibility of a one year break. This is one of the few midstream issues that has raised the distribution twice so far in the current year. Management has guided to more distribution raises ahead in the future. Very few companies in any industry can raise their distributions to shareholders. That puts Hess Midstream in a very elite group.
I analyze oil and gas companies and related companies like Hess Midstream in my service, Oil & Gas Value Research, where I look for undervalued names in the oil and gas space. I break down everything you need to know about these companies — the balance sheet, competitive position and development prospects. This article is an example of what I do. But for Oil & Gas Value Research members, they get it first and they get analysis on some companies that is not published on the free site. Interested? Sign up here for a free two-week trial.
Disclosure: I am/we are long HES HESM XOM. I wrote this article myself, and it expresses my own opinions. I am not receiving compensation for it (other than from Seeking Alpha). I have no business relationship with any company whose stock is mentioned in this article.
Additional disclosure: Disclaimer: I am not an investment advisor, and this article is not meant to be a recommendation of the purchase or sale of stock. Investors are advised to review all company documents, and press releases to see if the company fits their own investment qualifications.