Introduction
The age of oil appears to be quickly approaching its peak, if not already passed thanks to the economic disruption caused by Covid-19. There is currently a great debate raging about whether Exxon Mobil (XOM) can sustain their cherished dividend or will be forced to reduce it for the first time since the dark days of World War II. Whilst this topic is of obvious short term importance, it otherwise masks the bigger long term question of whether the oil industry will share a similar fate as the tobacco industry or far worse, the coal industry.
Background
It seldom takes any grasp of finance or business acumen to instinctively know that a dying industry is often a toxic place to operate, but they nonetheless can sometimes still produce substantial returns to shareholders, case in point being the tobacco industry. Whereas on the flip side you have the coal industry, which has largely been destructive to the wealth of shareholders.
Whilst the age of coal began ending many years ago as cleaner-burning natural gas and renewable energy took hold, oil demand managed to defy this trend as increasing economic growth counteracted increased fuel efficiency. Similar to many industries, the economic impacts from Covid-19 has changed the landscape with oil demand plunging by record amounts. Whilst it should see a further recovery from its still depressed current level, it now appears that demand is unlikely to ever materially increase above its previous pre-Covid-19 era levels, as the graph included below displays.
Source: BP Energy Outlook 2020
When BP released their Energy Outlook for 2020 they made news for highlighting that oil demand was unlikely to see any material growth even in a business-as-usual scenario, meanwhile their more aggressive scenarios foresee that oil demand may have already peaked. Given this situation, instead of focusing heavily on their short term dividend situation, it seems wise for investors to also consider how they might fare as the world moves away from oil. Whilst they also produce other commodities such as natural gas and chemicals, these too are facing similar attacks against their demand and given they are commodities, likely to also fare similarly.
The Tobacco Experience
When the new millennium began two decades ago the future for the tobacco industry was looking quite dire, as they were facing massive lawsuits and smokers were quitting. This normally toxic situation would spell the end for most companies or at least their dividends, but alas the strong price elasticity and highly concentrated market allowed them to defy this pressure. A perfect example is the United States tobacco giant, Altria (MO) who has seen their cigarette volumes declining virtually every year since 1997 but has still managed to grow their operating income significantly, as the graph included below displays.

Source: Author using data from Altria SEC Filings
The Coal Experience
Whilst the tobacco industry was able to continue rewarding its shareholders with steadily increasing dividends, the same certainly cannot be said for the coal industry that has seen many large names like Peabody Energy (BTU) file for bankruptcy in previous years. Since restructuring and relisting they have not performed much better, as the graph included below displays. Sure I could go through their financial performance but realistically, need I really say more?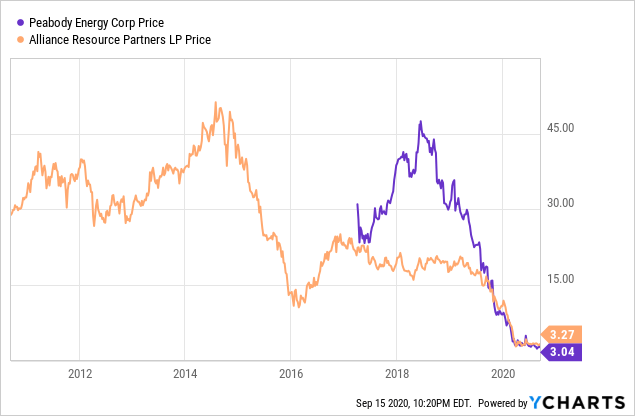 The Possible Oil Experience
When relating these contrasting experiences to the oil industry, there are two primary aspects to consider with the first and most important one being their price elasticity, which could also be described as their pricing power for the purpose of this analysis. This aspect forms the single biggest difference between tobacco and coal that largely explains their vastly differing fortunes and unfortunately, oil being a commodity sits far closer to coal than it does for tobacco. Whilst a tobacco company can increase its prices and see relatively few people quit smoking, if an oil company tries to increase its oil price then buyers will simply turn to one of their many competitors, which leads onto the second aspect.
The tobacco industry is extremely concentrated to the point that any further consolidation would essentially amount to forming a monopoly. Altria held a cigarette market share of 49% in the United States during the second quarter of 2020, a level that is never even closely reached by any company from the oil industry. This materially higher competitive environment further exacerbates the issues arising from their commodities having little to no pricing power. Overall it appears that the future fate of oil is not likely to be quite as terrible as that of coal, but at the same time, there are no reasons to believe it will be as stable as that of the tobacco industry.
Implications For Exxon Mobil
The rate that the world is moving away from fossil fuels is concerning from a non-societal financially focused perspective, especially since this resolve has continued despite the world also fighting a pandemic. I would imagine further industry consolidation will likely eventuate and whilst helpful, it alone cannot completely mitigate the issues arising from the lack of price elasticity.
Since the fate of oil is likely vastly more similar to that of coal rather than tobacco, it complicates their long term dividend prospects since oil prices would likely lavish as secular declining demand would provide weak fundamentals. This means that they may one day no longer be the dividend investment they were previously and thus investors should keep their expectations tempered.
The value of most investments extends well past the short term with this situation means that they could struggle to simply reinstate their dividend if reduced and thus spells the beginning of a new era of pain and disappointment. Thankfully there still appears to be a number of years before oil demand falls at a materially fast rate even in the more aggressive scenarios and thus investors still have time to adjust their portfolios.
Conclusion
Notwithstanding this otherwise sobering situation, it should be remembered that investors can still make money from the oil industry. Although their approach going forwards should be more selective than previously, whilst also being prepared to take profits from any potential recovery in the short to medium term. I still believe that they are likely to produce positive returns in the short term to medium term as they benefit from a potential recovery in operating conditions and thus I believe maintaining my bullish rating is appropriate for the time being, but this may change in the future.
Disclosure: I am/we are long MO. I wrote this article myself, and it expresses my own opinions. I am not receiving compensation for it (other than from Seeking Alpha). I have no business relationship with any company whose stock is mentioned in this article.