Stocks fell sharply Monday, suffering their worst day since the Black Monday market crash in 1987, even after the Federal Reserve embarked on a massive monetary stimulus campaign to curb slower economic growth amid the coronavirus outbreak.
The Dow Jones Industrial Average closed 2,997 points lower, or 12.9%. The 30-stock Dow was briefly down more than 3,000 points in the final minutes of trading. The S&P 500 dropped 12%, hitting its lowest level since December 2018, while the Nasdaq closed 12.3% lower in its worst day ever.
The major averages fell to their lows after President Donald Trump said the worst of the outbreak could last until August. He also told reporters the U.S. "may be" heading into a recession.
"The markets are getting no break with yesterday's historic Fed actions and COVID-19 dominating the world's headlines," Frank Cappelleri, the executive director at Instinet, said in a note. "While the news continues to worsen and with the price action doing things we've only seen a handful of other times in the last century, it's nearly impossible to keep things in perspective."
"We can't argue the facts, and we're dealing with a much bigger issue than just the economy," Cappelleri said.
Monday's losses put the Dow down 31.7% from its all-time high and the S&P 500 and Nasdaq more than 29% below their records last month.
Trading was halted for 15 minutes shortly after the open as a then-8.14% drop on the S&P 500 triggered a so-called circuit breaker. It was the third time in the last week a circuit breaker was triggered. Before the open, futures contracts tied to the major averages hit their "limit down" levels, meaning they could not trade below that threshold. Those limits — along with the regular session's circuit breakers — are imposed by the exchanges to maintain orderly market behavior.
While the central bank's actions may help ease the functioning of markets, many investors said they would ultimately want to see coronavirus cases peaking and falling in the U.S. before it was safe to take on risk and buy equities again.
"The Fed blasted its monetary bazooka for sure," said Peter Boockvar, an investment officer at Bleakley Advisory Group. "This better work because I don't know what they have left and no amount of money raining from the sky will cure this virus. Only time and medicine will."
The Fed's move, in tandem with headlines suggesting the White House is preparing a tax break for consumers and a bailout for the airlines industry, made some investors more optimistic on the market.
"This entire market would turn around in one second if the government came out and said, we're going to provide business interruption insurance to companies that lose money in the second quarter if they don't fire any workers," Ricky Sandler, Eminence Capital CEO, told CNBC's Scott Wapner.
Fed announces QE
On Sunday, the Fed cut interest rates down to basically zero, their lowest level since 2015, and launched a massive $700 billion quantitative easing program. Trump said he was "very happy" with the announcement, adding: "I think that people in the markets should be very thrilled."
"This, coupled with an important fiscal package, should help cushion the economic downside from the virus' effect on economic activity," said Quincy Krosby, a market strategist at Prudential Financial. "It's going to be positive, but the market is at the mercy of the virus and at the mercy of whether the containment policies work."
The Fed's announcement came after it issued another emergency rate cut earlier this month. It also comes on the heels of the market's biggest one-day gain since 2008, with the major averages all surging more than 9% on Friday.
However, news about the coronavirus outbreak did not help sentiment. U.S. cases have jumped to 3,774 and 69 deaths, according to Johns Hopkins University. The Centers for Disease Control and Prevention urged organizers to cancel or postpone events with more than 50 people. New York, New Jersey and Connecticut governors banned eating in restaurants and limited events to less than 50 people.
U.S. airlines are seeking $50 billion in government assistance to curb the virus' blow to the industry. Sen. Mitt Romney, R-UT, proposed Monday sending every U.S. adult $1,000 to ease the financial pain from the virus. That proposal came after National Economic Council Director Larry Kudlow said the administration "might" provide direct cash assistance to U.S. households. Sen. Chuck Schumer, D-NY, will reportedly propose a stimulus package of at least $750 billion.
"The main problem this time as to other market disruptions is the abrupt closure of economic activity," said Dan Deming, managing director at KKM Financial. "The speed of the impact to middle America, let alone the global community is relatively unprecedented."
Apple shares plunged by 10%. Bank stocks took a hit, with Bank of America and JPMorgan Chase each dropping more than 13%. Morgan Stanley fell 12.8% while Citigroup dropped 16.5%. The big banks announced Sunday they were halting their buyback programs in an effort to provide capital where needed.
Airline came off their lows after Trump said the administration would "backstop the airlines." Delta shares traded just 4% lower after falling more than 10%. American Airlines was up more than 10% after plunging earlier in the day.
The Dow and S&P 500 fell more than 8% last week along with the Nasdaq, tumbling into bear market territory. A bear market is usually defined on Wall Street as a decline of at least 20% from a recent high.
Investors have been dumping equities amid worries the coronavirus will slow economic growth and take a bite out of corporate profits. Economists at JPMorgan see negative growth for the first quarter while Goldman Sachs downgraded its first-quarter growth forecast to flat from 0.7%.
"The rapid spread of COVID-19 across the globe has dramatically heightened investor uncertainty and rocked global financial markets," strategists at MRB Partners said in a note, adding the situation will "get worse before it gets better."
"Looking ahead, the number of active cases is likely to worsen in the near run," they said.
CNBC's Jeff Cox, Silvia Amaro and Pippa Stevens contributed to this report.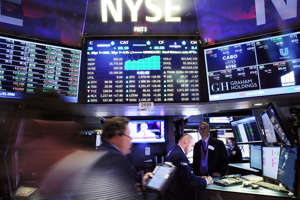 © Spencer Platt / Getty