This is the final installment of my Best of the Best Utilities which identified seven utilities stocks with outstanding attributes. Part 1 examined MGE Energy (MGEE), Part 2 reviewed Alliant Energy (LNT) and Part 3 compared Duke Energy (DUK) and NextEra (NEE). The remaining three stocks are Atmos Energy (ATO), WEC Energy (WEC), and Xcel Energy (XEL), are covered in Part 4. Of the three, Atmos offers the best current value while WEC and Xcel shares appear to be overpriced.
Source
The original premise of this series, The Best of the Best, was to identify utility companies with three important similarities: 1) CFRA rating of A for 10-year consistency in earnings and dividend growth; 2) S&P credit rating of A; 3) Operating in states rated as Above Average by Regulatory Research Associates [RRA] arm of S&P Global. The strategy is to locate companies operating in favorable regulatory environments whose management has utilized the support to both manage a conservative balance sheet and to generate above average earnings and dividend growth. Of 50+ utilities evaluated, only the seven companies listed above made the cut. However, these three utilities have smaller percentages of their business in states with the highest rating by RRA.
Atmos Energy
Atmos Energy is the largest publicly traded local distribution natural gas utility [LDC]. ATO services over 3.3 million utility customers in the Southwest, eastern mountain states, and lower Midwest: Texas, Colorado, Kansas, Kentucky, Louisiana, Mississippi, Tennessee, and Virginia. ATO is a fully regulated utility offering exposure to both state-regulated LDC and a 5,700-mile FERC-regulated gas transmission pipeline combined with a storage network. ATO is a mid-cap value style selection with a 2.5% yield.
The LDC segment generated 83% of fiscal Sept 2019 operating revenues and 63% of operating profit. The table below outlines ATO's customer count by state, the percentage of total customers, the RRA regulatory support environment for each state (Above Average 1-1 (highest) to 1-3, Average 2-1 to 2-3, Below Average 3-1 to 3-3 (lowest)), and the state PUC allowed return on equity [ROE].

As shown, the majority of ATO's customers lie in Texas, which is rated Below Average 3-1 for regulatory support of its utilities. Texas accounted for 53% of 2019 LDC operating income. Approx. 12% of customer service territory are in the states of Virginia and Mississippi and are rated Above Average for regulatory support. These two states generated about 16% of operating income. The balance, or 26% of customers, live in states considered as Average for regulatory support and contributed 31% of 2019 operating income. As shown, while 63% of customers live in Texas, the Below Average rating by RRA for regulatory financial support shows up in lower operating profits per customer for that segment of ATO's business.
In addition to the LDC business, Atmos operates 5,700 miles of FERC-regulated natural gas pipeline and five natural gas storage facilities. In FY2019, the pipeline and storage business generated 17% of revenues and 37% of operating profit. Compared to the state-allowed ROE regulation of between 9.10% and 9.80%, the FERC-allowed ROE is 11.5%.
Atmos LDC operating income for FY2020 9-months through June 30 increased from $447 million in 2019 to $496 in 2020, led by $71 million in rate increases, $10 million in customer growth, and $10 million decrease in operating expenses, offset by $10 million in COVID-related decline in customer volumes and $25 million increase in property taxes combined with increase in depreciation and amortization. Overall, ATO LDCs have been granted $145 million in rate increases so far in FY2020 with an additional $140 million pending and in progress, compared to a total of $115 million in rate increases in FY2019.
The pipeline and storage segment generated $227 million in operating profits for the same FY2020 period vs $209 last year, driven by $40 million increase in rates offset by increases in operating expenses.
In FY2019, Atmos earned $4.35 per share, and during its 3rd qtr investors presentation, management has offered a guidance of $4.65 (midpoint) this fiscal year. In FY 2021, ATO could earn close to $5.00 per share. It is important for investors to appreciate that ~70% of earnings per share for Atmos is generated during the 6 months of October to March.
As with many utilities, Atmos growth in the future will be driven by its capital expenditures additions to its rate base. However, according to its latest investor's presentation, 88% of its $1.4 billion capital budget for FY2020 is earmarked for "safety and reliability" projects. $916 million is slated for replacement of old and potentially "leak-prone" distribution and service pipes, an Achilles heel for LDCs across the country. While many pipe replacement programs carry preferential inclusion into the rate base, this is a "replacement of assets" issue rather than an underlying business growth issue.
WEC Energy Group
WEC Energy Group is a multi-utility providing electric and natural gas service to customers in Illinois, Michigan, Minnesota, and Wisconsin. In addition, WEC is 60% owner of American Transmission Co [ATC], a JV with other Wisconsin utilities in operating and developing FERC-regulated high voltage electric transmission networks. WEC is also aggressively expanding its non-regulated renewable energy generation capacity through its construction and purchase of wind and solar farms throughout the Midwest.
WEC serves 1.6 million electric customers in Wisconsin and Michigan, as well operating a natural gas LDC for 2.9 million customers in Illinois, Wisconsin, Minnesota, and Michigan. As with most regulated utilities, a hefty capital expenditure budget expanding the regulated rate base will be a driving factor in WEC future earnings growth. Management is working on a projected 2020 to 2024 electric and gas utility cap ex program of $8.5 billion, with many of its projects covered by timely inclusion into the rate base via riders. For example, most "leak-prone" LDC pipe replacement cap ex is included in the rate base not long after project completion. Management expects to invest an additional $1.3 billion in ATC assets. Non-regulated renewable power generation is earmarked to grow by $5.2 billion. Combined, WEC has an aggressive $15 billion 5-yr capital expenditure program.
WEC is expected to earn $3.72 per share this year and $4.00 in 2021, up from $3.58 in 2019. From a state regulatory environment vantage point, 55% of earnings is generated from regulated utilities in Wisconsin, with an Above Average 1-2 rating by RRA. 14% of earnings come from Illinois (Below Average 3-1) and 4% from Michigan (Average 2-1) and Minnesota (Average 2-2). FERC-regulated ATC generates 6% of earnings, with non-regulated power generation making up the balance 23%.
Operating cash flow is expected to grow from $1.0 billion last year to over $1.5 billion in 2022. With the majority of cap ex funding coming from operating cash flow and increased debt, analysts are not anticipating addition dilutive share issuance over the next 3 years. However, total liabilities are expected to grow from $24.6 billion last year to $28.7 billion by the end of 2022, representing a 17% increase in indebtedness.
WEC is expected to grow earnings per share by 6% to 7% a year, about average with the utility sector. The dividend payout should follow suit, mirroring the underlying earnings growth. However, with a current 2.7% yield, the cash income rewards seem a bit light compared to WEC multi-utility peers.
More information can be found from their Sept 2020 investor presentation.
Xcel Energy
Xcel Energy serves almost 6 million customer, 3.8 million electric and 2.1 million natural gas. Operating as Northern States Power in Minnesota, North Dakota, South Dakota, Wisconsin, and Michigan, along with Public Service Company of Colorado and Southwestern Public Service Company, which serves customers in Texas and New Mexico. XEL also operates one of the largest renewable power networks in the US, with 23% of its generating capacity from solar and wind resources. The electric utility operations accounted for 83% of operating revenues in 2019, the LDC natural gas utility operations generated 16% of operating revenues, and non-regulated and other for 1%.
From a regulatory vantage point, allowed ROE for Xcel's 14 rate jurisdictions range from 9.2% to 10.75% with a 9.6% system-wide weighted average allowed ROE. XEL's largest service territories are Minnesota and Colorado which combined represent 77% of ongoing earnings per share. Colorado (RRA rating Average 2-1) oversees $12.4 billion in WEC regulated rate base assets and contributed $1.11 of ongoing earnings. Minnesota (RRA rating Average 2-2) is right behind CO overseeing $11.3 billion in rate base assets and $1.04 in earnings per share. Texas (RRA rating Below Average 3-1) and New Mexico (RRA rating Below Average 3-1) oversee a combined $4.7 billion rate base and contributed $0.51 per share in earnings. Lastly, Wisconsin (RRA rating Above Average 1-2) and Michigan (RRA rating Average 2-1) oversee $1.7 billion in rate base assets and generated $0.15 in earnings per share.
Xcel is set to invest more than $22 billion in capital expenditures in 2020-24, much of it going to renewable energy projects and the electric grid infrastructure needed to support renewable energy. The expansion of its rate base will drive earnings higher by 6% a year and will also reflect on dividend growth of a similar amount. However, like WEC, XEL's current distribution yield is also a bit light at 2.5%.
More information can be found in XEL latest investor presentation.
All three companies have exposure to aging and "leak-prone" cast iron and/or uncoated steel LDC main (under the road) and service (road to meter) pipes. The Pipeline Hazardous Materials Safety Administration estimates there are 68,000 miles of distribution pipes and over 1.8 million miles of service connections in need of replacement. An important annual publication for natural gas utility investors to review is the Natural Gas Distribution Infrastructure Replacement and Modernization: A Review of State Programs which outlines the status of pipe replacement by state. While there is no reliable estimate on the total cost liability to replace these problematic pipes, in urban settings, the cost could exceed $10 million per mile.
Of the three companies Atmos Energy, WEC Energy and Xcel Energy, ATO offers the best "value" from a price to earnings vantage point. ATO has a TTM PE ratio of 19x vs 26x for WEC and XEL and all three have approx. the same EPS growth potential of 5% to 7%. All three offer the same dividend yield of 2.4% to 2.6% with the identical dividend growth profile.
Atmos also gets a minor leg up on the other two utilities due to its pure play natural gas LDC profile. There are some investors who believe LDC utilities have less "disruptive technology" exposure on the horizon than electric utilities with their issues of distributed power, micro-grids, and competitive power markets where some nuclear power plants are shutting down due to an auction-based short-term pricing scheme.
Historically, LDC have traded at a premium PE to electric utilities. According to an article by S&P Global Insights, historically LDCs have traded at a 16% premium to electric utility PE ratios, as was the case as recently as Jan 2019. However, during the "Great Swan Dive" of March 2020 and amid growing concern about future natural gas availability, the premium slipped to a -6% discount, but has since rebounded to a positive premium spread of around 4%. However, bucking this trend, ATO current trades at a substantial discount to the PE ratios of WEC and XEL.
I hope readers have found this 4-part series to be thought-provoking and useful. Thanks for reading.
Author's Note: Below is the spreadsheet of the seven companies that qualify for inclusion in the Best of the Best Utilities.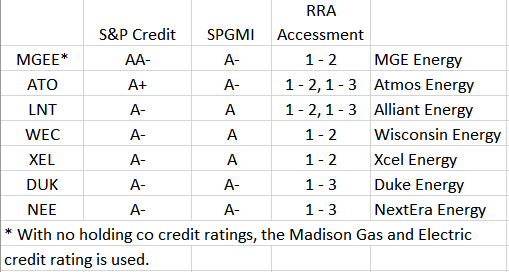 The states consider by RRA as being More Constructive/Above Average #2: Alabama, Virginia, and Wisconsin. States considered More Constructive/Above Average #3: Florida, Georgia, Iowa, Indiana, Mississippi, and Pennsylvania.
Disclosure: I am/we are long WEC. I wrote this article myself, and it expresses my own opinions. I am not receiving compensation for it (other than from Seeking Alpha). I have no business relationship with any company whose stock is mentioned in this article.