Expiration Friday
We have a few things happening today, so let's get into it.
Executive portfolio
MDGL
We've had a pretty good streak going in our Executive portfolio, closing out 17 consecutive winners. However, that will come to an end today with Madrigal (MDGL). Biotech companies create many opportunities, but you have to do your homework and pick your spots. These companies can remain stagnant for an extended period, then explode higher when good news hits.
We thought we had zeroed in on a great opportunity in Madrigal and the promising effects of Drug 53, also known as Resmetirom. However, things did not pan out. Based on the research posted in our original report, we are confident that this stock will have an explode upside, but with things cooling off, we are now unsure when. It would be next month, six months, or possibly longer.
As much as I would like to take another stab at this one, that's not smart investing. We will continue to monitor Madrigal, and if we see something we will move on it. Today we will book the loss and move on.
LMT
We addressed our Lockheed Martin (LMT) yesterday, adjusting our September puts out to November. The calls we will let expire worthless at the end of the day. To see yesterday's full report, click here.
If you missed yesterday's report or are logging in late and you were assigned on September puts, there is nothing to be concerned about. If you were assigned stock, I would recommend doing nothing, and the September 360 puts will be automatically exercised at the end of the day.
You would then still want to make the November adjustment as outlined in the link above.
Ultra Portfolio
TREX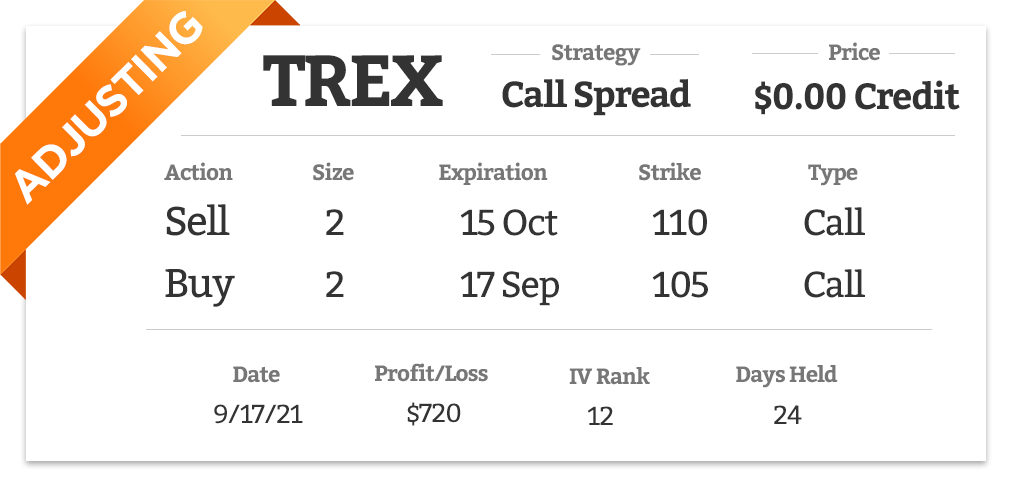 Trex (TREX) has been a big winner for our Ultra portfolio. We purchased longer-dated calls and sold a longer-dated put spread with the stock at about $93. Shortly after that, the stock shot up to $102, and the book the profits on the put spread.
The stock then climbed to $110, where we sold 2 short-term 105 call options for $6.30. This was a very cautious trade. Instead of giving the stock room to run to the upside, we were betting on a pullback.
Today the stock is trading at $107.50.
Here, I would like to repurchase our September 105 calls for a price of $2.70 and then sell the October 110 calls for $2.70. Here, we will bank the $3.60 per contract of profit from the September calls and look to generate more income while appreciating our original position in October.
DKNG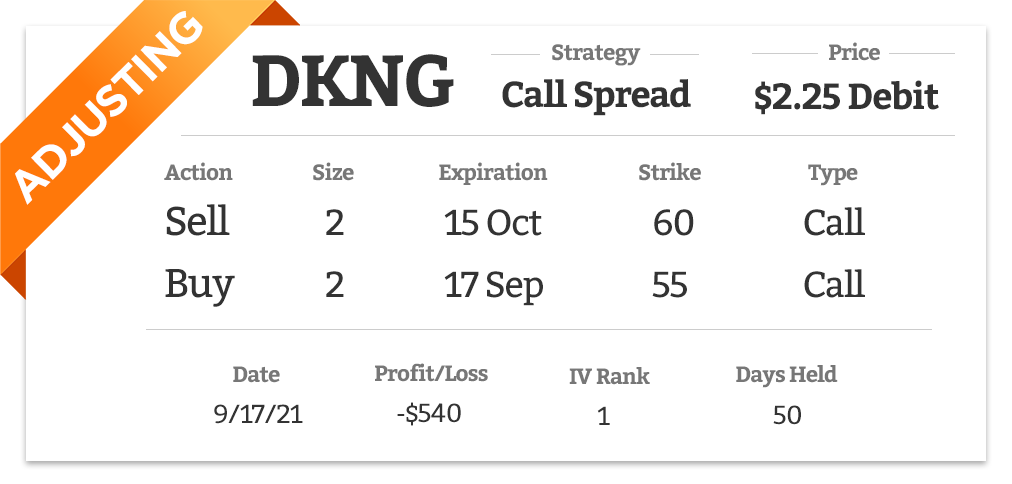 Draftkings (DKNG) has been our most involved trade to date. We originally opened the position with the stock trading at about $35. Since then, the volatile stock has been on a wild ride, giving us plenty of opportunities to realize gains in our original position while generating income for our portfolio.
To date, we've made nine adjustments in the name.
So far, we've generated $3650 by selling short-term premium against our long-term position. That does not include the $900 that we are also upon in our long-term position.
Today, I would like to keep the position going by buying back our Sep 55 calls for $5.35 and then selling the Oct 60 calls for $3.10 for a total debt of $2.25. Because we originally sold the Sep 55 calls for a $2.60 credit and now are paying $2.25 on the adjustment we will only pick up $0.35, reducing our premium income on the trade down to $3200. But it will allow us to make profits all the way up to $60 or on our original position, where we currently stand at $55.
Although we did take a loss on the Sep 55 calls, this was a hedge, and we made more than the loss in our long term position over the same time span which will be reflected when we close out the trade.