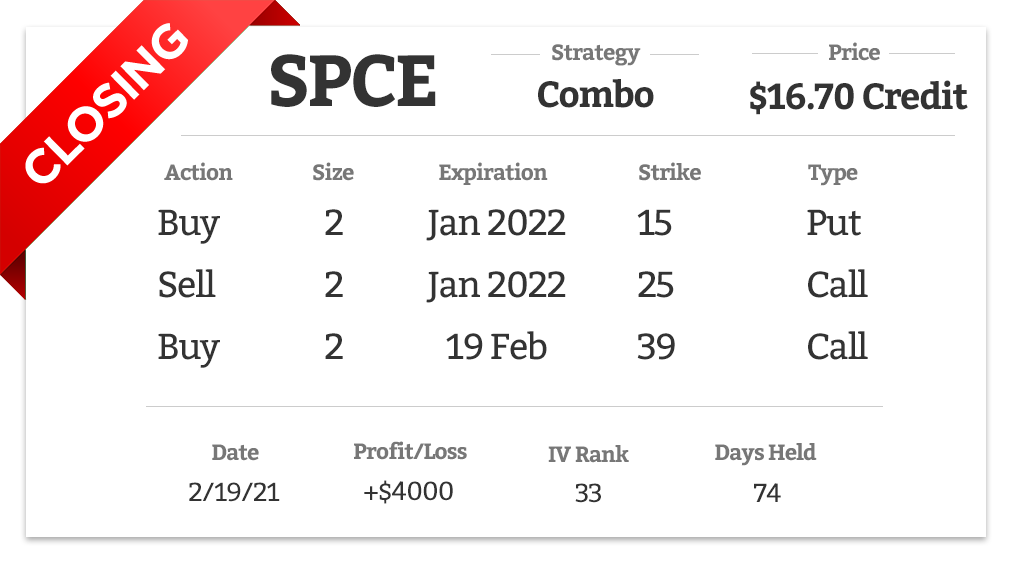 Virgin Galactic (SPCE) has been on a wild ride since we entered the stock at the price of about $17.50. Space tourism has been a hot topic. Although our opening position was timed perfectly, it appears we underestimated how high the stock could "blast off" to.
Fortunately, by using the risk reversal strategy, we are able to make a lot of money when we're wrong and even more money when we are right.
Over recent weeks Virgin Galactic has been rumored to be launching a test flight, although the company itself has yet to confirm nor deny the allegations.
Being that the stock has shot up over our short-term calls, we have two choices. We could either repurchase the short calls, then sell higher strike price calls going several months out or close a position.
Since we've already made a lot of money in this name, and the stock is several dollars over our short strike, I think it would be wise to close out the position and see if the market gives us another opportunity to reenter in the future.
To close the position, we will be executing the following trades:
Buy 2 Jan 2022 15 Put
Sell 2 Jan 2022 25 Call
Buy 2 Feb 2021 39 Call
This should be performed in single trade for the credit of $16.70.
If you recall, when we open this trade on November 2, we opened it for a $.20 credit. I love trades that pay us when we open and pay us again when we close!
So it's our P&L on a minimum order?
We open the trade for $.20 credit on two contracts. This means we were paid $40 to open the trade. Today we are closing the trade for $16.70 on two contracts for a total credit of $3340.
However, we were also able to monetize a position last month by selling to upside calls for $3.10 that ended up expiring worthless. This gave us another $620 of income.
So here, our total profit on a minimum order is $4000 on a minimum order!
GDX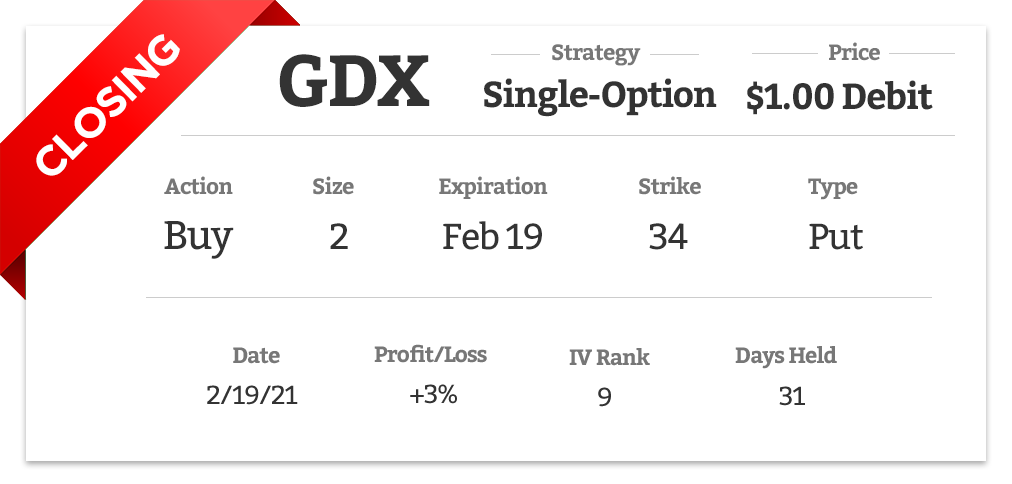 Shares of the VanEck Vectors Gold Miners Fund (GDX) had a rough week. Gold and other precious metals have been the go-to standard to protect against inflation. Still, as bitcoin continues to go more mainstream, it seems that bitcoin is now the first choice for protecting long-term financial wealth against stimulus.
Bitcoin won't continue the trade-up forever, and if you're a member of our sister site CryptoInvestingInsider.com, you've made a killing on bitcoin and other cryptocurrencies as well. However, today will have to buy back our short-term downside puts as GDX has fallen below our strike price of $34.
Technically I wouldn't mind owning GDX at this level, but we mustn't get so attached to our position that we don't listen to the markets telling us. Right now, gold is not a loved asset even though technically it should be.
We still believe it will get there, but we want to tread with caution and listen to what the market is telling us. For this reason, we were going to buy back the put part of our straddle for the price of $1.00. Being that we sold the straddle for $1.25, we're still leaving with a profit of $.25.
By selling short-term premium, we continue to monetize our long-term GDX calls. This strategy has allowed us to reduce the premium we have invested in this trade down to $1.75. Not where we were hoping to be right now, but with the January 40 strike price call options sporting a price of $2.65, we still have $.90 of profit in this trade.
That's not bad for a trade that has not been working in our favor. However, if gold does see the lift-off like economists have been expecting, this could turn into a lot of money really fast…
We will continue to watch gold price fluctuation over the next several weeks and decide if we want to let our precious metal position run through the remainder of the year or take our profits and move on.