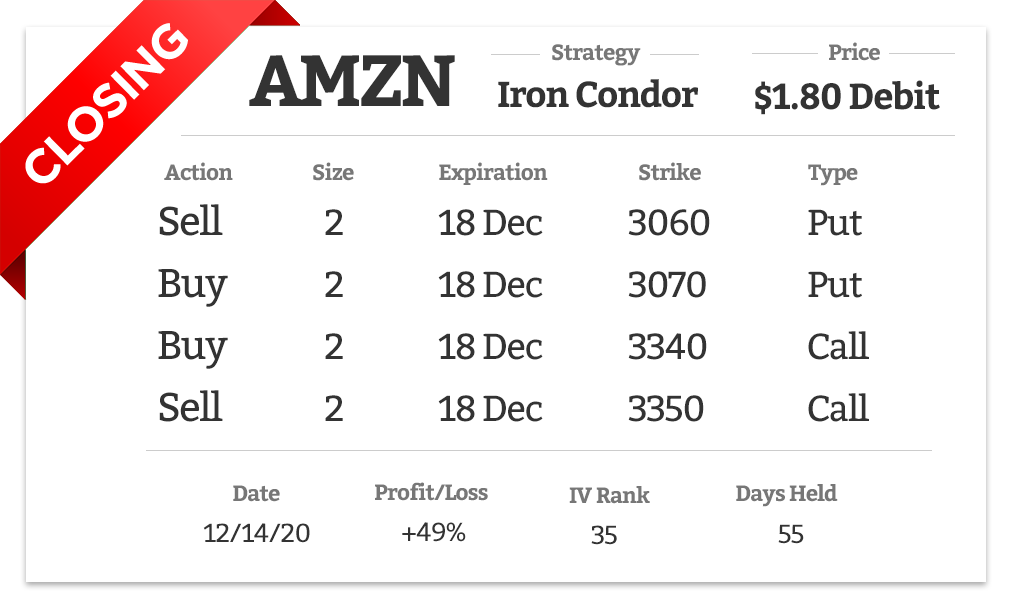 With our Amazon (AMZN) position expiring at the end of the week and the stock fairly close to our sweet spot of the iron condor, it's time to exit the trade and take the profits.
We originally opened a bull call spread, a more aggressive strategy, risking $480 with a possible payout of $520. However, the stock didn't perform, trading relatively sideways throughout the trade.
Amazon has a lot of things going for it. In addition to October's Prime Day and last month's Black Friday, Amazon has launched additional programs to disrupt the healthcare sector. New technologies like rapid blood testing, geometric testing, and activity trackers will help customers get faster answers about their health are on the horizon.
Despite the company's continued success and innovations, with the coronavirus vaccines' announcements, the market started a rotation out of tech and into value, causing Amazon's stock price to stagnate, which is how we played it into the adjustment, selling iron condor for $6.10.
Today we will be repurchasing the position for $1.80, leaving us a $4.30 profit. Because we did two contracts our profit on the adjustment will be $860. However, because we lost $480 on the original trade, we will be left with a net profit of $380.