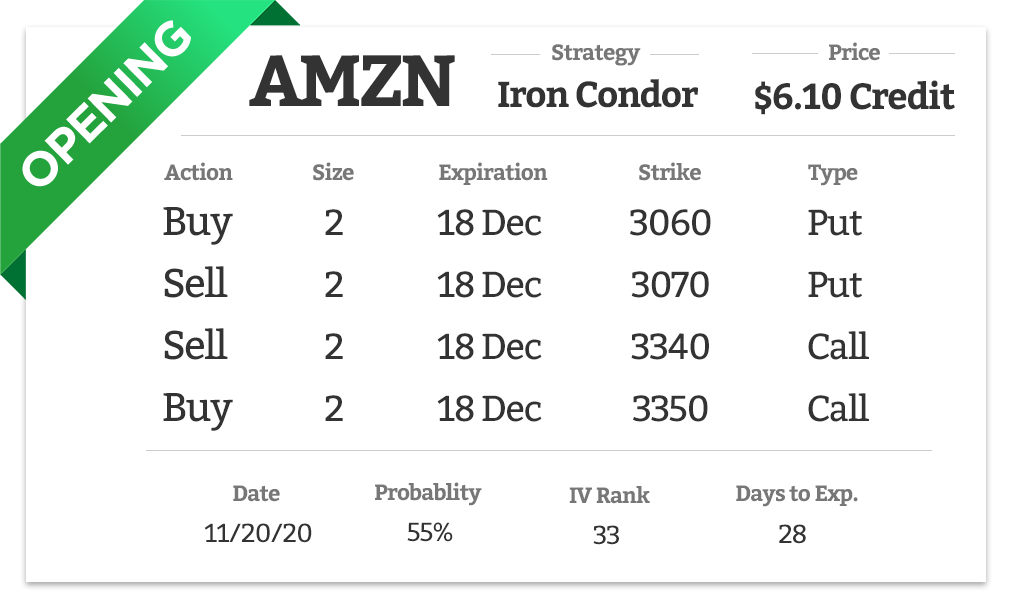 With our Amazon position expiring out of the money today, we want to put an adjustment on the trade by adding an iron condor…
The current position will expire at the end of the day, so there is nothing to do here, but we do want to add to the position for next month.
We see the retail giant currently battling a push-pull landscape. The announcement of the vaccine killed our chances of winning the original trade. Now investors are looking to rotate out of growth and into value. This will act as downward pressure on Amazon.
However, Amazon has a lot of interesting things going on…Just this week alone, Amazon (AMZN), the online retail and logistics behemoth, and cloud company (and, and, and…) told the world it has more markets in its sights…
Its targets include one of the biggest parts of the economy – health care, or more specifically, prescription drugs.
And the other new target is pretty big, too – transportation, specifically the microchips that collect all the information about what your car or truck is doing.
In other words, expect to see even more of Amazon's blue, smiley-face trucks driving around the neighborhood…
Amazon said customers can establish a secure pharmacy profile, which will allow them to include health insurance information and manage their prescriptions. Amazon Prime subscribers will get free, two-day shipping from Amazon Pharmacy as part of their service.
This is the latest step – and a more direct one – in Amazon's foray into the health care industry. In 2018, the company spent roughly $750 million on PillPack, which packages and sorts prescriptions before delivering them to customers.
It's one of the easiest transactions in the health care system and shouldn't be made more expensive or difficult by the supply chain. Consumers have a real understanding of how to get their meds. And we all know how to use Amazon and other online purchasing platforms.
Car Tracking
The other less-reported announcement from Amazon this week was its partnership with NXP Semiconductor (NXPI).
This is a deal that links the semiconductor chips in cars and trucks that NXP makes with Amazon's massive cloud-based web services business, called Amazon Web Services ("AWS").
NXP hopes to use the data to help automakers "improve vehicle performance." That includes better security for "connected cars," according to the company… and we can imagine a variety of potential uses on Amazon's end, too.
NXP hopes to use the data to help automakers "improve vehicle performance." That includes better security for "connected cars," according to the company… and we can imagine a variety of potential uses on Amazon's end, too.
Carmakers can now transfer vehicle data – from "sensory data to algorithmic and behavioral data" – to the cloud… And the deal with Amazon opens the door for a lot of that previously unexplored data to be "mined" and examined.
Big Deals
NXP's revenue totaled $2.27 billion in the third quarter of 2020… And chips make up 45% of its business. The company is going to create a new chip that collects data from cars and trucks and shares them with AWS data centers.
We could see this paying off for Amazon's delivery network in unimagined ways, too.
And back to the first deal… Health care makes up about a fifth of the U.S. economy. To not have to leave your house to get your regular prescriptions? We think people will come around to this idea quickly and start adding prescriptions to their regular Amazon orders.
Here's the really interesting thing, though, from an investment point of view…
The market went ho-hum about this double dose of Amazon news this week. The company's shares bumped a little bit higher earlier this week on the online pharmacy idea, but they're pretty much flat over the past five trading days – remaining around $3,120 over that span.
It seems people are taking Amazon for granted today…
Oh, yeah, of course Amazon is looking to disrupt what seems like every industry on the planet…
But not every company can… And few companies do. Just disrupting or dominating one industry is enough of a challenge for most…
Few companies in history have done what Amazon has done at the scale it has over the past two decades. It has gone from an online bookstore… to a pharmacy… and everything in between.
Amazon's Most Profitable Year Ever
Wall Street recently didn't like the company's estimates of a $1 billion profit for the fourth quarter – down from $4.5 billion. But that's not seeing the big picture…
Even before the holiday season, Amazon had already made a record yearly profit through the end of September – close to $14 billion.
Amazon is one of the companies hiring people today… Its workforce recently eclipsed 1 million worldwide. It's now going to send people their pills and take in data from cars… So it can stomach what it says will likely be $4 billion in costs associated with COVID-19 this quarter.
It can eventually make up billions like no other company can… via its Amazon Prime subscribers. The company now has more than 150 million Amazon Prime subscribers worldwide, almost all happily paying either roughly $13 per month or $119 per year. That's all recurring revenue.
Perhaps most important, Amazon looks like it will be one of a select few companies to dominate the cloud-computing era that is just getting started… And that, we remind you, was made possible by a longer-term bet years ago overlooked by some…
The Trade
Because we have to battle the current rotation out of growth and into value while at the same time digesting all of the fantastic innovations Amazon is releasing, we would like to do a bullish skewed iron condor expiring next month.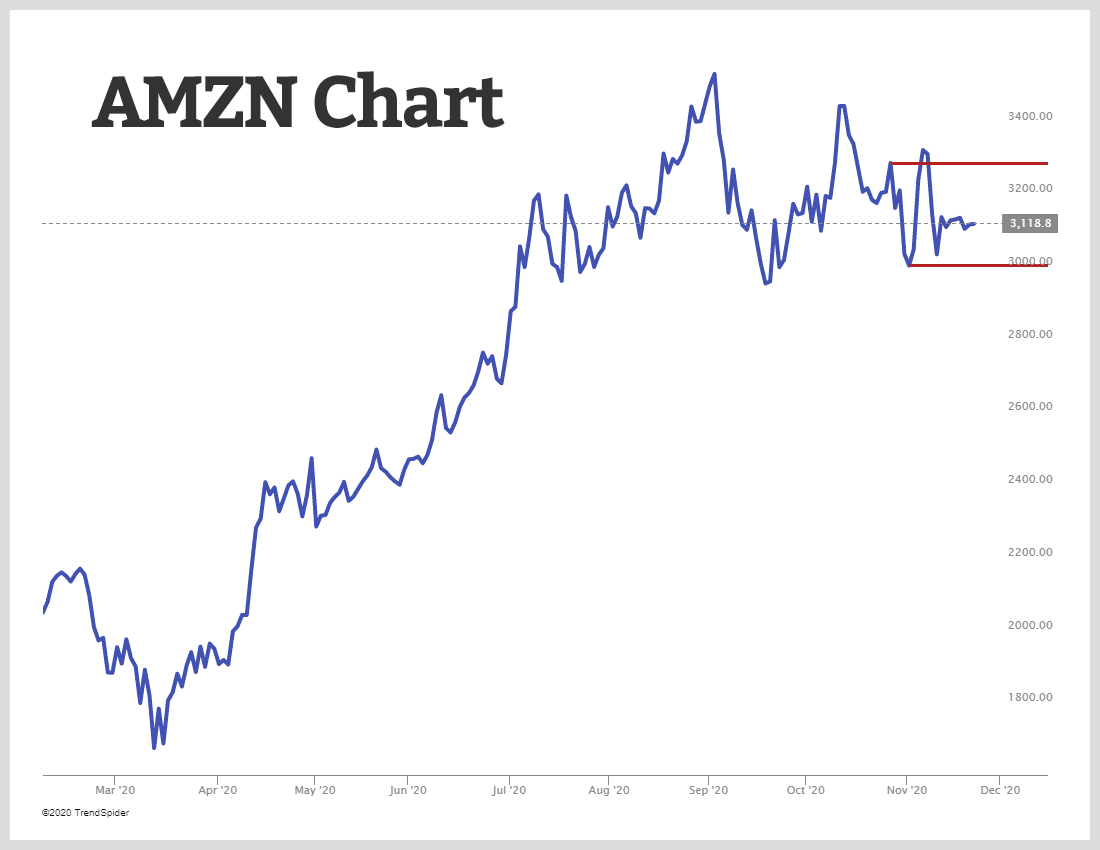 That'll give us a little bit of protection on the downside while substantially more protection on the upside.
Because we are collecting $6.10 per contract on the trade, and it's a $10 wide iron condor, we will only have $3.90 at risk.
Holidays are usually less volatile times, as people are usually busy with other things at this time of the year, which should also assist with this trade.