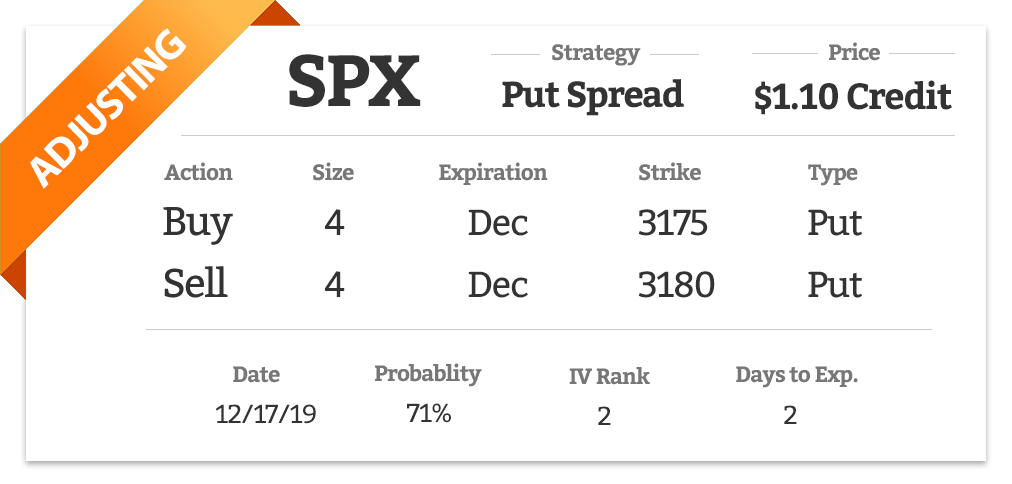 Our SPX position has gotten a bit of trouble. I want to adjust the trade so that we cushion any loss we may take, and with any luck, increase our profit if the market should fall back in line.
For this I'm going to turn our 3180/3185 call spread into an iron condor.
So the whole position is now going to look like this:
Buy 4 SPX  3175 Put
Sell 4 SPX 3180 Put
Sell 4 SPX 3180 Call
Buy 4 SPX 3185 Call
We have received a total of $1.95 for this position, that means our max loss is $3.05 and our breakeven's are going to be between 3178.05 and 3181.95.
Keep in mind because we now we have two sides of the trade on, we will definitely win one side and limit any losses we may take.
This will to be a close one, but it would not surprise me if the market pulled back we were able to work ourselves out of this, Especially with the amount of volume posted on the 3175 strike, indicating this could be with the market pins on expiration.
Keep in mind the market will be fluctuating all day, I recommended getting at least $.95, and it's been as high as $1.20 this morning.