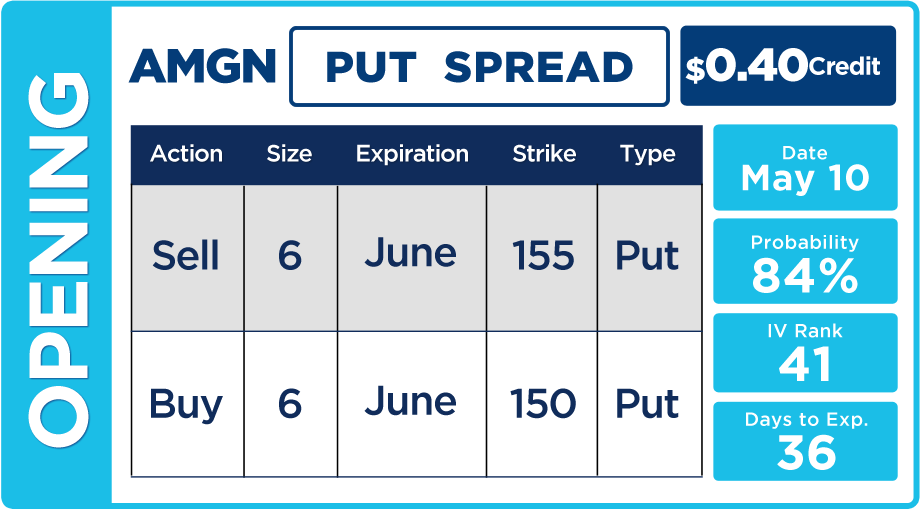 The biotech sector has been getting beaten up lately, and with that, an increase in implied volatility, something we like. The bar has been set pretty low for the biotech sector, which makes for a perfect time to swoop in if we find the right situation to get into.
Amgen is looking like it is a perfect fit as it has many defensive characteristics that will stop the company from trading much lower. It has $32 billion in cash on the books, $6.2 billion in terms of free cash flow in the first quarter, and the sector has a whole looks like it's settling down at this level.
Amgen also have a lot of new products in the pipeline, there's at least six or seven key therapeutic areas that Amgen is going after. They're also working on acquiring other profitable drugs that fit with their portfolio. When a smart acquisition, or even possibly a merger is made, the market will react to the upside.
In the mean time they have a migraine product in Erenumab that has continued to exceed expectations by meeting all primary and secondary endpoints in the unique phase 3b study, and these are with patients who have failed multiple prior preventive treatments.
Let's not forget about Rapatha, the drug for hyperlipidemia, which is also continuing to grow and gain momentum in the space.
The point is the company has been relatively flat recently, but with the amount of positive new products coming down the pipeline, Amgen is setting up to trade higher over the next several months. This is one we could hit over and over again throughout the summer.
Looking for Amgen to at least support the current level and start to trade higher as the media starts to cover all the positive things  happening within the company.